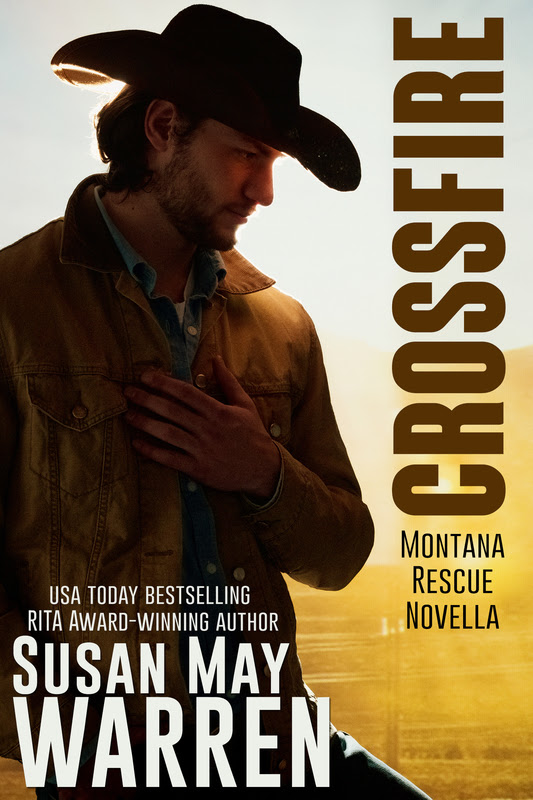 Synopsis:~
The woman he loves is caught in the crossfire of revenge…but he'll have to face his crimes to save her. 
A Montana Rescue novella by acclaimed, RITA award-winning, USA Today best-selling author Susan May Warren
Seven years have passed since ranch foreman Kade Logan walked away from small town Dawson, Montana and the woman he loved, Haddie Brown. He had his reasons, including a dark secret that made him swear never to return to eastern Montana oil country. Since then, he's thrown himself into his job as foreman of billionaire rancher Ian Shaw's spread in western Montana. He's built a new life far from the mistakes—and broken heart—he left behind.
Trauma nurse Haddie Brown has fought to forget Kade and her broken dreams. Sure, she's back in Dawson, but not for long—she's on her way to Minneapolis to start a new chapter of her life.
When family problems bring Kade back to Dawson, his past comes due—and Haddie is caught in the crossfire. Kade must face his mistakes to rescue the woman he loves. And Haddie must trust the man who broke her heart if she hopes save them all.
My endorsement:~
Despite the constraints of a smaller word count in this novella, Susan May Warren's trademark adrenaline laced romance still packs a punch as Kade Logan reluctantly returns to his hometown of Dawson and runs smack bang into danger and heartache. Forced to reconnect with Haddie, the girl who rejected him for his best friend, Kade is reminded why he left home in the first place. A disaster brings his feelings and fears into stark clarity, providing plenty of opportunity for Warren to weave faith, love, and healing into a fast-paced and engaging story. Readers will love the cameo appearances from some of the Peak Rescue team, with some hints about the stories to come. Crossfire is the perfect quick read, its short length disguised by all the good stuff Warren's talent squeezes in!
With thanks to the author for my endorsement copy. I provide author support services to the author, however, my views remain my own.
Relz Reviewz Extras
All Things Susie May @ Relz Reviewz
Visit Susie's website and blog
Buy from Amazon: Crossfire