Wife, mother, editor, encourager, & soon-to-be Grandma
Author of contemporary romance
Wish You Were Here & Catch A Falling Star
~~~~~~~~
What did you do on/for your 13th birthday?
I have a twin sister. If I'm remembering correctly, for our 13th birthday, our parents let us have a slumber party. Lots of girls. Two cakes – chocolate for my sister, vanilla for me. Lots of talking. Lots of laughing. Too little sleep.
What 3 adjectives would your friends/family use to describe your personality?
Encouraging Funny Stubborn
Where did your penchant for writing contemporary romance begin?
I like to read both contemporary and historical romance. But when I started writing fiction, I thought it would be easier in some ways to focus on contemporary because I wouldn't have to mess with the historical research. That's true – but there's research with any kind of novel.
Describe Catch A Falling Star in 5 adjectives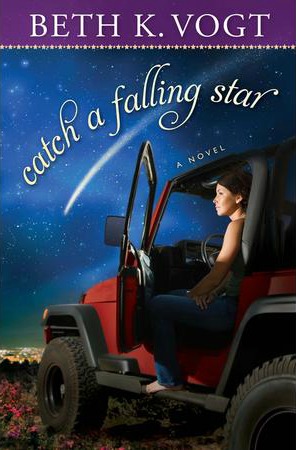 Humorous Realistic Layered Romantic Hopeful
What creepy crawly or critter do you most fear?
Spiders (Hates 'em, hates 'em, hates 'em!)
If you could bring one character to life from your own books, who would it be and why?
This is kind of a tough-fun question. I would choose Ian Walker from Catch a Falling Star. He's sixteen, got a lot of potential – I'd like to see him grow up and discover who he becomes.
What's guaranteed to make you laugh?
A family game night! (Anybody else ever play Quelf?)
Please share a favourite Bible verse
Romans 5 (The Message):
"By entering through faith into what God has always wanted to do for us – set us right with him, make us fit for him – we have it all together with God because of our Master Jesus. And that's not all: We throw open our doors to God and discover at the same moment that he has already thrown open his door to us. We find ourselves standing where we always hoped we might stand – out in the wide open spaces of God's grace and glory …"
I used to be all about the do's and don'ts of religion – just tell me what to do, God, and I'll do it. Tell me what not to do, God. I'm your rule-following girl! And then God got hold of me and challenged me about being an "accidental" Pharisee – being legalistic. I didn't mean to be, but I was quite good at it. This verse reminds me of the truth that I stand, I live, in grace – wide open spaces – not in the confines of legalism.
Thanks, dear Beth!
Relz Reviewz Extras
Review of Catch A Falling Star
Character spotlight on Kendall & Griffin
Review of Wish You Were Here
Character spotlight on Allison & Daniel
Interview with Beth
Beth's Author Alert 
Visit Beth's website
Buy Catch A Falling Star at Amazon or Koorong