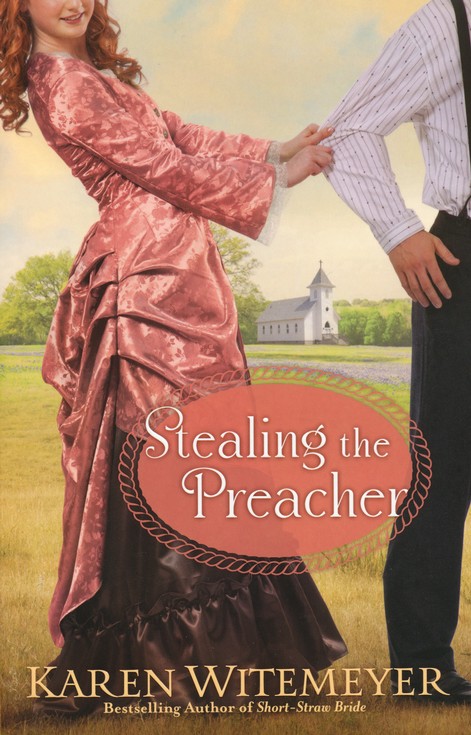 Meet a preacher & an artist in
Karen Witemeyer's
historical romance
Stealing the Preacher
Bethany House
The Story
On his way to interview for a position at a church in the Piney Woods of Texas, Crockett Archer can scarcely believe it when he's forced off the train by a retired outlaw and presented to the man's daughter as the minister she requested for her birthday. Worried this unfortunate detour will ruin his chances of finally serving a congregation of his own, Crockett is determined to escape. But when he finally gets away, he's haunted by the memory of the young woman he left behind–a woman whose dreams now hinge on him.
For months, Joanna Robbins prayed for a preacher. A man to breathe life back into the abandoned church at the heart of her community. A man to assist her in fulfilling a promise to her dying mother. A man to help her discover answers to the questions that have been on her heart for so long. But just when it seems God has answered her prayers, it turns out the parson is there against his will and has dreams of his own calling him elsewhere. Is there any way she can convince Crockett to stay in her little backwoods community? And does the attraction between them have any chance of blossoming when Joanna's outlaw father is dead set against his daughter courting a preacher?
Enjoy meeting Crockett & Joanna
Crockett Archer
Brief physical description
Crockett is 28 years old with dark hair and brown eyes. Although, when Joanna first meets him, she describes his eyes as being "the exact shade of the deep Caledonia Brown pigment from her paint set, though infused with a light that would be impossible to capture on canvas." Those same eyes twinkle with teasing mirth more often than not. Crockett is tall and lean, with a muscled frame well accustomed to ranch work.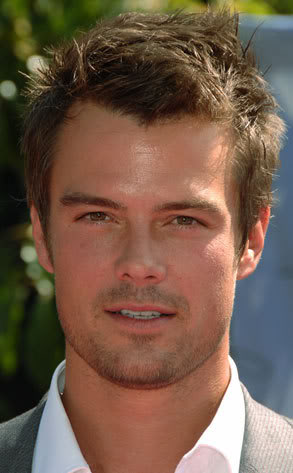 Resembles…
I never start out with a photo when I develop my characters, but when I went looking for an actor that could fit into the mental image I had for Crockett, something resonated with me when I came across pictures of Josh Duhamel. Throw a Stetson on his head, give him some Levis and boots, and I think he'd make a right fine Crockett Archer.
Strengths and weaknesses
Crockett has a gift of putting people at ease. He uses humor and distraction to defuse charged situations and preaches with a passion that touches hearts. He's also skilled in doctoring, having grown up on an isolated ranch where he was responsible for treating any injuries his brothers sustained.
His weakness include being ignorant of the wiles women use to manipulate men. Being isolated for so long on the Archer ranch, he'd never spent significant time around the fairer sex. He also has a tendency to be too certain about the direction God has planned for him and balks when those beliefs are challenged.
Quirk (if any)
He loves to tease. Humor and charm are the most used weapons in his social arsenal.
Your inspiration for the character
Crockett is a carry-over character from Short-Straw Bride. So while his personality was basically developed in full during that previous novel, I had a lot of fun digging into his heart and soul in Stealing the Preacher. Crockett Archer is a man committed to following God's call on his life, yet his patience and his faith are put to the test when one obstacle after another are thrown into his path.
Joanna Robbins
Brief physical description
Joanna Robbins turns 21 at the beginning of the novel. She has strawberry-blonde hair that curls in unruly corkscrews that hang just past her shoulders. Her hair is too heavy to grow any longer. She sees herself as having skin that is too pale, freckles that are too frequent, and eyes too colorless for anyone to find her attractive. Those eyes are actually a soft, cloudy blue-grey. Crockett, however,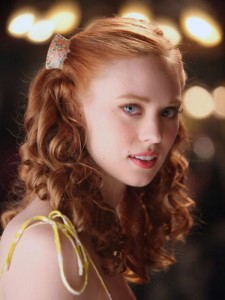 sees her as a milky-skinned pixie with delicate features that summon a man's protective instincts.
Resembles…
I had difficulty finding the name of this redheaded beauty, but when I stumbled across her photo on a hairstyle website, I just knew she was the one to represent Joanna. Young, fresh, innocent yet fiercely loyal and dedicated to those she loves.
Quirk (if any)
Joanna loves to paint. Her mother was an art teacher back east and a talented landscape artist in her own right before traveling west and encountering Silas Robbins. Painting keeps memories of her late mother close and is one of the ways Joanna tries to keep Martha Robbins's legacy alive.
Your inspiration for the character
Since Crockett was more fully formed in my mind than Joanna to begin, I tailored her character to be the perfect complement to Crockett. Where Crockett is charismatic and charming, Joanna is shy and practical-minded. Crockett looks at the big picture when viewing the future and his ministry. Joanna is focused on specific people and details. Both are hard-working and mission-minded. But to keep things interesting, I knew I needed to throw in a few unexpected surprises. So instead of a woman from a fine Christian family one would expect for a future preacher's wife, I made Joanna the daughter of a retired outlaw, one who despises "sermonizers" and their hypocritical ways. Not only does Crockett have to win Joanna, he has to win over her father. No easy task.
Background to the story
The inspiration for Stealing the Preacher actually sparked during the writing of Short-Straw Bride, the book which introduced the reclusive Archer brothers. Crockett Archer played a key role in the story, his smooth, teasing charm a balance to older brother Travis's gruff, over-protective nature. I knew in my heart that this man deserved a story of his own.
When the Archer brothers were children, growing up alone on their ranch and defending it from those who wanted to take advantage of their youth, Crockett's niche in the family evolved into that of spiritual mentor and healer. He was in charge of the family devotionals the Archers conducted in lieu of attending a church service, and whenever an injury occurred on the ranch, Crockett was the one to tend it. For years, the Archers never left their land, yet as he grew to manhood, Crockett felt God's call deepen within him—a call to not only minister to his brothers, but to a congregation of his own.
So what kind of heroine could I create for this noble preacher-to-be? Well, she had to be someone who shared his values and his calling to ministry. But if I left it at that, we'd have an awfully dull story. So to liven things up, I made Joanna Robbins the daughter of a retired outlaw, one who despises "sermonizers" and their hypocritical ways.
Since Crockett is no ordinary preacher, but a gun-toting rancher with a gift for doctoring . . . well, that meant a plot full of scrapes, trouble, and shenanigans. But amid the adventure and romance lies a heartrending tale of God's pursuit of a single lost soul.
Thanks Karen!
Relz Reviewz Extras
Character spotlight on Travis & Meredith
Interview with Karen
Reviews of Short-Straw Bride, A Tailor-Made Bride, Head in the Clouds & To Win Her Heart
Karen's FamilyFiction Plus interview
Visit Karen's website
Buy Stealing the Preacher at Amazon or Koorong