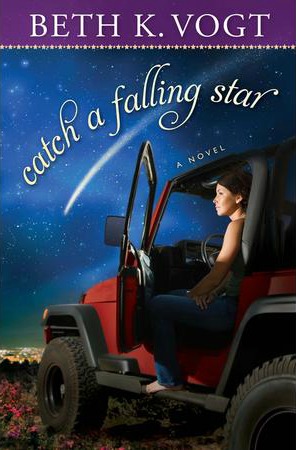 Dr Kendall Haynes can't abide a disinterested parent and when she meets the man she believes to be her teenaged patient's father she is not shy about taking him to task over his seeming lack of concern over Ian's allergies.
Grounded Air Force pilot Griffin Walker is at a loss regarding his new found status as guardian of his much younger brother and is ill equipped to handle his own inadequacies when it comes to parenting let alone sharing his life and home with another person. He certainly doesn't appreciate the dressing down he receives from the small but fiery doctor which only ignites his insecurites.
Forced together, this oil and water couple begin to discover that God may have something else in mind for their futures.
Oh, how I adore Beth Vogt's stories! Catch A Falling Star proves the talent she displayed for the written word in her debut novel, Wish You Were Here, was no accident. Sparkling dialogue, authentic characters, and a realistic and engaging  journey to love captivated me as Kendall and Griffin wrestled with what life has thrown their way, despite their best efforts at controlling their own destinies. Beth has a knack for creating characters that are special by their very normality, complex yet understandable, flawed yet so very likeable. Maybe I'm showing my age but I enjoyed reading a slow blossoming love story between two mature people, both who imagined their lives quite differently to the ones they were living. Ian's character was pivotal and allowed Beth's wit to shine, particularly as Griffin stumbled around trying to show love in an awkward yet endearing manner to a brother he barely knew, let alone understood. Kendall's big heart and compassionate doctoring made me smile and her dedication to her patients was a lovely acknowledgement of the many medical practitioners who are devoted to finding better health for their patients. If Catch A Falling Star is any indication of  Beth's increasing skill, her third book is going to be a beauty!
With thanks to Howard for my review copy via NetGalley
Relz Reviewz Extras
Character spotlight on Kendall & Griffin
Review of Wish You Were Here
Character spotlight on Allison & Daniel
Interview with Beth
Beth's Author Alert 
Visit Beth's website
Buy Catch A Falling Star at Amazon or Koorong