The Reading Habits
of
Melody Carlson
*****
Are you a re-reader? Why, or why not? And if you are, what are some of the books you have read over and over?
I always imagine that I will re-read some of my favorite books, but the truth is I never have. My only excuse is that there are so many new books to read that I feel I can never catch up. But someday I plan to re-read some of my favorite books (on my bookshelf) and I honestly think it would be educational for me as a writer. I'd like to see how I respond to a book I loved 20 or 30 years ago.
When is your optimal time to read – do you prefer to read in one long block, or do you also read for five minutes here or there when you can?
My best time to read (because it's uninterrupted) is on an airline flight. I love those times (not flying so much—but reading) because I really get into a book and finish it before the flight is over. Other times I've enjoyed reading was while I was sick (and couldn't do anything else—giving me a good excuse to dig in) or while on vacation (which I'm in need of right now!). Because once I'm immersed in a good book, I don't like interruptions.
I'd love your thoughts on novellas. Are you thumbs up or down? Or does it depend?!
Well, because I write some holiday novellas, I must be thumbs up. My reasoning is that many readers are pressed for time and sometimes a novella is just what they need. I say this about holiday times, but I realize that many of us (including me) don't have the luxury of long undisturbed times for reading.
Are you faithful to a genre, an author, or simply quality writing?
I'd say quality writing. I'll read most genres and I love certain authors, but sometimes a genre or an author can disappoint. So give me a good book—and (if I have time) I'll happily read it.
Which factors most influence your selection of a book?
A good review goes a long way—or hearing a lot of chatter about a certain title. Also, a recommendation from a friend can get me on board. And I hate to admit it, but I can also be influenced by a great cover (sometimes it's a mistake!) or simply a limited selection of books (if I don't have my ebook handy and am in the reading mode).
Your fiction pet peeve?
Novels that pull you into a suffering character's life, you go through a lot . . . and then it ends badly. I call those 'wall-bangers' because I want to throw them across the room!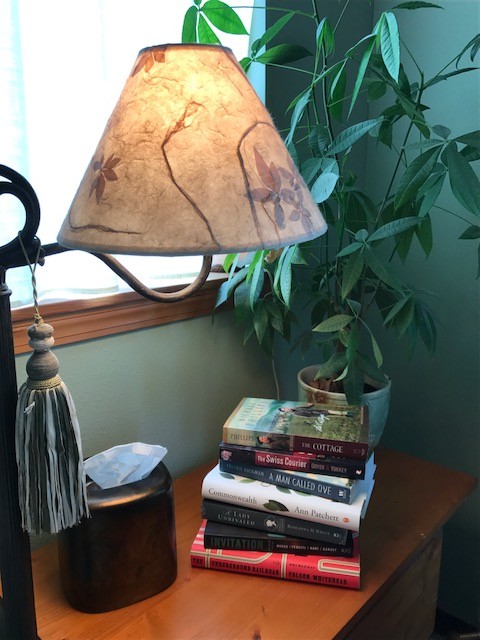 Melody's TBR
What book have you read this year that you could not put down, and why?
It's been a really crazy-busy year so the last book I can remember (like that) was from the previous year. It was TAKE ME WITH YOU by Catherine Ryan Hyde.
How do you mark your spot – folded page corner, bookmark, dollar bill, whatever is at hand?
Whatever is nearby. I never fold a page and I never seem able to find a real bookmark (although my office is full of them).
Whose debut novel impressed you more than you anticipated?
Wally Lamb's She's Come Undone. I kept thinking it was written by a woman, but I met Wally a few years later and he's definitely a guy.
When reading, what makes or breaks a story for you?
What makes a story is a believable character that I care about. What breaks a story is bad writing. If I get 'stopped' too many times, I'll put the book down.
What are some of your favourite CF reads from around 10 years ago, or further back?
George MacDonald and the Thoenes come to mind.
Snack/drink of choice while reading?
Coffee (or tea) and nuts.
What book cover has really caught your eye?
Recently, I'm attracted to All the Light We Cannot See by Anthony Doerr, but I know nothing about it—and haven't purchased it yet.
Which author makes it easy to turn off your internal editor?
What a great question! Elizabeth Berg or Maeve Binchey probably would.
What book do you wish you had written? Why?
Well . . . To Kill a Mockingbird (of course!) but then I'd only have written one book. But it's such a classic. Although I was dismayed to hear that Harper Lee had a lot of editorial 'help' with it. Not sure how I feel about that.
Thanks Melody
Be sure to get your hands on Melody's latest Christmas story…
During World War II, Amelia Richards receives news that her baby's father has been shot down in the South Pacific. Jobless and broke, she begins to lose hope. She has nowhere to turn for help but her infant's paternal grandparents. The only problem is, they don't know that she—or their grandson—exists.

When Amelia discovers that the family is wealthy and influential, dare she disclose the truth of her relationship with their son? Can she risk rejection to give her baby a better life? Or could the celebration of the arrival of another unexpected baby nearly two thousand years ago be the answer to her dilemma?
Melody Carlson is the award-winning author of over two hundred books with combined sales of more than six million. She is the author of several books, including the bestselling The Christmas Bus, The Christmas Dog, Christmas at Harrington's, The Christmas Cat, The Christmas Joy Ride, and The Christmas Angel Project. She received a Romantic Times Career Achievement Award in the inspirational market for her many books, including the Diary of a Teenage Girl series and Finding Alice. She and her husband live in central Oregon. Learn more at www.melodycarlson.com.
Relz Reviewz Extras
All Things Carlson @ Relz Reviewz
Visit Melody's website
Buy at Amazon: The Christmas Blessing or Koorong