The Reading Habits
of
Laura Frantz
**********
Are you a re-reader? Why, or why not? And if you are, what are some of the books you have read over and over?
I am not much of a re-reader unless the book just knocks me off my feet. There are so many good books out there that I just move on
When is your optimal time to read – do you prefer to read in one long block, or do you also read for five minutes here or there when you can?
I love big blocks of time where I can really sink into a novel and lose myself. I'm a rainy day reader, devoting hours and hours to inclement weather.
I'd love your thoughts on novellas. Are you thumbs up or down? Or does it depend?!
Thumbs up! It's a real treat to sit down with a story that is short and sweet and ties together with others in theme. Plus, the novella covers lately are just stunning!
Are you faithful to a genre, an author, or simply quality writing?
Quality writing trumps everything for me and my fav genre continues to be historical fiction.
Which factors most influence your selection of a book?
The cover and back cover copy, the first page. Endorsements matter little to me. Word of mouth from reading friends is hugely important.
Your fiction pet peeve?
Overuse of pet words, something I struggle with myself!
What book have you read this year that you could not put down, and why?
Flight of the Sparrow (A Novel of Early America) by Amy Belding Brown. It has all the ingredients I love – passion and poignancy, deep thought and real life history. Definitely one I'll be rereading.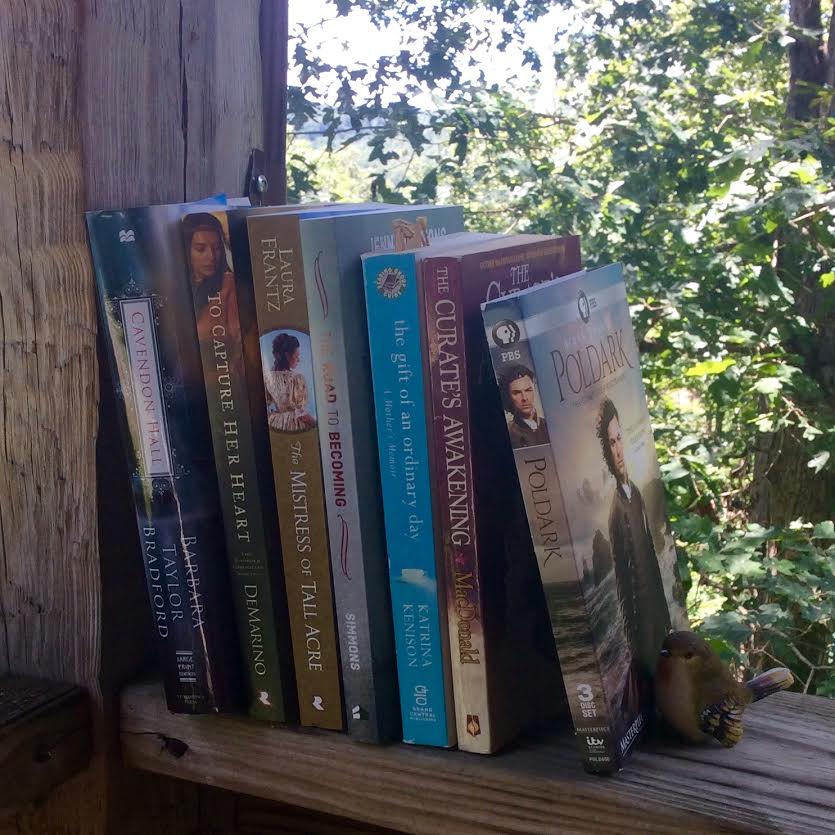 Laura's Bookshelf
How do you mark your spot – folded page corner, bookmark, dollar bill, whatever is at hand?
I have a small collection of bookmarks I like, sometimes those my publisher designs for my own books
Whose debut novel impressed you more than you anticipated?
Kristy Cambron's The Butterfly and the Violin. The cover and title are so beautiful and evocative and hint at the incredible story within. Plus Kristy is a dear friend and one of the most gifted, genuine authors I know. I was really thrilled to endorse her debut and I recommend her often.
When reading, what makes or breaks a story for you?
Historicals that contain errors which indicate a lack of research or modern-day heroines clad in historical clothing. Misuse of period speech is another story killer.
What are some of your favourite CF reads from around 10 years ago, or further back?
You can't go wrong with Francine Rivers or Liz Curtis Higgs.
Snack/drink of choice while reading?
Diet Dr. Pepper Cherry and buttery popcorn.
What book cover has really caught your eye?
Kate Breslin's Not by Sight and For Such a Time are elegant, classy, and just visually stunning to me.
Which author makes it easy to turn off your internal editor?
Joanne Bischof and Serena Miller really make me forget all that editing nonsense 
 Both have the gift of ensnarement in their writing, taking me to a whole new reading level.
What book do you wish you had written? Why?
Christy by Catherine Marshall. I think it broke ground for the Christian market and set the bar very high. It's also is set in Appalachia, my home and most beloved setting.
Don't miss Laura's latest historical romance…

The Mistress of Tall Acre
There can be only one mistress of Tall Acre . . .

The American Revolution is finally over, and Sophie Menzies is starved for good news. When her nearest neighbor, General Seamus Ogilvy, finally comes home to Tall Acre, she hopes it is a sign of better days to come. But the general is now a widower with a small daughter in desperate need of a mother. Nearly destitute, Sophie agrees to marry Seamus and become the mistress of Tall Acre in what seems a safe, sensible arrangement. But when a woman from the general's past returns without warning, the ties that bind this fledgling family together will be strained to the utmost.
When all is said and done, who will be the rightful mistress of Tall Acre?
Relz Reviewz Extras
Laura…discover more
Character spotlights on on Ellie & Jack, Eden & Silas, Cassius & Roxanna, Morrow Little, and Lael Click
Reviews of The Mistress of Tall Acre, Love's Fortune, Love's Awakening, Love's Reckoning, The Colonel's Lady, Courting Morrow Little and The Frontiersman's Daughter
Visit Laura's website and blog
Buy at Amazon: The Mistress of Tall Acre or Koorong