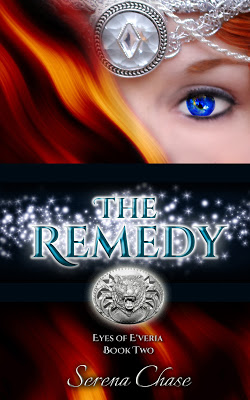 Synopsis:~
PURPOSED by birth. DESTINED by prophecy. REVEALED by Truth.
Now, her time has come.
Having come to terms with her long-hidden identity, Princess Rynnaia E'veri is ready to take her rightful place. But before she can join her father at Castle Rynwyk, she must endeavor to fulfill a 200-year-old prophecy and defeat the Kingdom's ancient enemy, the Cobelds. Joined by her faithful knight, Sir Julien de Gladiel, and a gifted group of friends, Rynnaia must trek a dangerous path through canyons, forests, and into the very depths of a mountain where, if the prophetic scrolls prove correct, she will face an unknown foe, alone. Treacheries will be discovered, sacrifices will be made, friends will be lost, and love will be tested, but if even one line of the riddled prophecy is misinterpreted, Rynnaia will fail . . . and the Kingdom will fall.
Beginning at the point THE RYN ended, THE REMEDY concludes an epic re-imagining of the classic Grimm fairy tale, SNOW WHITE & ROSE RED, but the Eyes of E'veria series is only beginning . . .
My take:~
The Remedy continues Serena Chase's beautifully rendered retelling of the beloved fairy tale, Snow White and Rose Red. Having only just come to terms with her heritage, Rynnaia's adventures continue as she finally meets her father, resolves to risk all to end the curse of the evil Cobolds and discover a remedy to heal her dying mother. Serena has penned another captivating story that delights and engages readers from the get go. The gorgeous Julien  returns to protect his beloved Rynnaia, the pirate Cazien stirs up trouble, and Rynnaia unearths courage and faith she didn't know she had. I adored everything about this story ~ the intriguing characters, the meaningful allegory, the exciting adventure, and gorgeous romance. I'm enthralled with Serena's writing style and will be clamouring for the next story given the tantalising hints and teasers in the final stages of The Remedy. This series is one to savour many times over ~ don't miss it!
With thanks to the author for my review copy
Relz Reviewz Extras
Character spotlight on Julien & Rynnaia
Review of The Ryn
Serena's Author Alert
Visit Serena's website and blog
Like Serena's FB page
Buy at Amazon ~ The Ryn and The Remedy