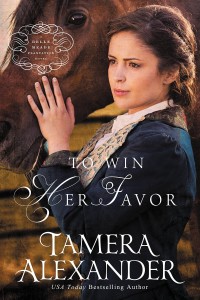 Synopsis:~
A gifted rider in a world where ladies never race, Maggie Linden is determined that her horse will become a champion. But the one man who could help her has vowed to stay away from thoroughbred racing forever.
An Irishman far from home, Cullen McGrath left a once prosperous life in England because of a horse racing scandal that nearly ruined him. He's come to Nashville for a fresh start, hoping to buy land and begin farming, all while determined to stay as far away from thoroughbred racing as possible. But starting over proves harder than he'd wagered, especially when Maggie Linden's father makes him an offer he shouldn't accept yet cannot possibly refuse.
Maggie is certain that her mare, Bourbon Belle, can take the top purse in the inaugural Peyton Stakes, the richest race ever run in America. Maggie only needs the chance to prove it. To give her that chance—and to save Linden Downs from being sold to the highest bidder—Maggie's father, aging, yet wily as ever, makes a barter. His agreement includes one tiny, troublesome detail––Maggie must marry a man she's never met. A man she never would have chosen for herself.
My take:~
Beloved author, Tamera Alexander, returns with her unique brand of historical romance, To Win Her Favor. Encapsulated in this well told story are all the ingredients readers look for in a love story set in a bygone era. The second novel in her Belle Meade Plantation series, readers are again transported to the post Civil War South, this time to the world of thoroughbred racing and the heartache as Southern families were displaced from their family homes. With great insight, Tamera delves into the oft told realities of racism and hatred against former slaves and also includes the significant prejudice against the Irish immigrants who arrived in America in the late 19th century, hoping to find a new life.
This marriage of convenience story rises above this oft used trope with Tamera's deft hand and engaging prose. Cullen is an intriguing hero – rough around the edges and worn down by loss, but full of integrity and a champion of the downtrodden. Maggie is desperate to fulfil her dream of training and racing her thoroughbred, Bourbon Belle, after so many tragedies have struck her family. As Cullen and Maggie negotiate their own prejudices against each other, a burgeoning attraction, and opposing views on racing Belle, conflict is raging against Cullen and the former slaves he now employs in ways that bring heartache and loss to Linden Downs.  Tamera doesn't shy away from the insidious nature of racial hatred, but there is nothing gratuitous in her telling of this part of history. The attraction between Cullen and Maggie is intense, especially on Cullen's part as he has been previously married and now finds himself wedded to a young, beautiful woman not yet inclined to make theirs a marriage in full. His forbearance and tenderness is beautifully written, his internal thoughts and feelings realistic and forthright, although those readers who prefer sweetness over realism may be surprised.
To Win Her Favor confirms Tamera Alexander as one of the premiere writers of historical romance, creating stories with the perfect blend of historical fact, intriguing plot, engaging characters, and a tender and genuine love story.  I highly recommend this novel.
As seen at Crossings.com and reprinted with permission of Bookspan LLC
Relz Reviewz Extras
Character spotlight on Claire & Sutton
Reviews of To Whisper Her Name, A Lasting Impression, Revealed, Remembered, The Inheritance, From A Distance, Beyond This Moment & Within My Heart
Interview with Tamera
Visit Tamera's website and blog
Buy at Amazon: To Win Her Favor or Koorong