I first fell in love with Tamara Leigh's writing when I read Stealing Adda, a fabulous story about "writer's block, nibbled nails, plagiarism, oh my! And did I mention romance?" Tamara continued writing great contemporary romance stories with Faking Grace, Perfecting Cate, her Southern Discomfort trilogy, and my all time favourite, Splitting Harriet. Returning to her "first love", writing medieval romance, Tamara digitally self published Dreamspell, a fantastic time travel romance and launched her Age of Faith inspirational medieval romance novels ~ The Unveiling, The Yielding, The Redeeming, The Kindling, and The Longing ~ sigh….! If you have ever read a Tamara Leigh novel, you will know she writes the BEST heroes 😉 But I digress!
As if that wasn't enough, Tamara gained back the rights to her general market medieval romance novels and is now rewriting them as "clean" romances, and has released Lady at Arms and a couple of weeks ago, Lady of Eve.
GIVEAWAY 
To celebrate the release of Lady of Eve AND her first foray into audiobooks with Lady at Arms, Tamara is sharing the fascinating development of her stunning covers for these two books below with her wonderful comments, and is giving away 3 prizes.
an audiobook of  Lady at Arms and an e-book of Lady of Eve
two additional e-book copies of Lady of Eve
Be sure to read through this great guest post from Tamara and then enter for the giveaways via the Rafflecopter form below.
Now, over to you, Tamara!
********
Tamara Leigh: There are two things that make my fingers itch to pick up a book–a great title that raises an intriguing question and a fabulous cover that appeals to my personal reading tastes and raises further questions. Then, and only then, do I take the next step of reading the back cover blurb. If it promises to deliver hours of reading enjoyment, the next step is to head for the nearest cash register. Since I know I'm not the only once who judges–at least initially–a book by its cover, it was important to me that the covers of my books catch a reader's eye and faithfully represent the story inside. And I believe my amazingly talented and patient graphic artist came through for me. So, without further ado, here are the major steps in the journey I took with her to create two of my beautiful covers:
LADY AT ARMS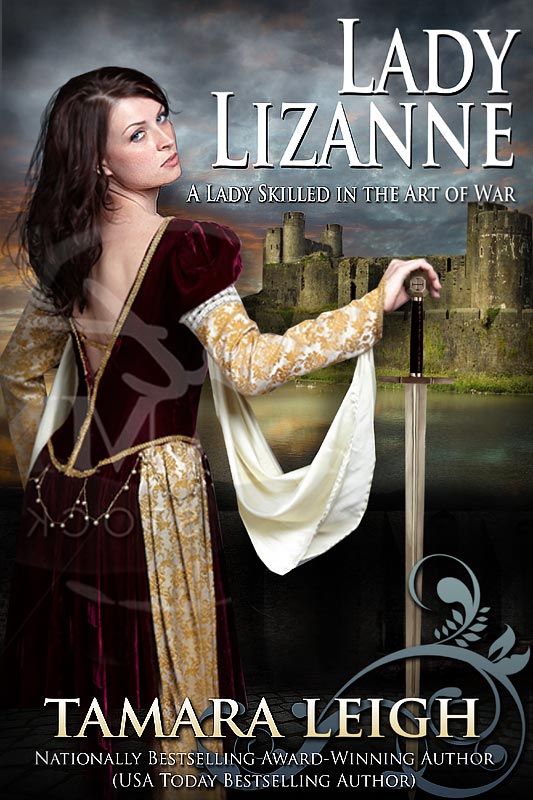 Pic #1:
Yes, I agree.
Lower her chin a bit, as well as her arm.
And gowns during this time period were not open in the back.
As for her hair… Can you work a miracle?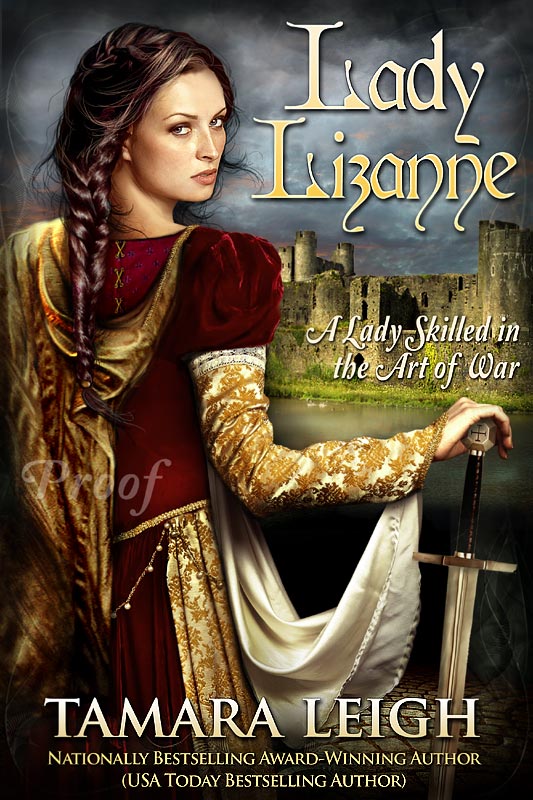 Pic #2:
Ooh, miracle!
Now that looks like my sword-wielding warrior bride.
Cape? Yes, something a bit fuller, perhaps.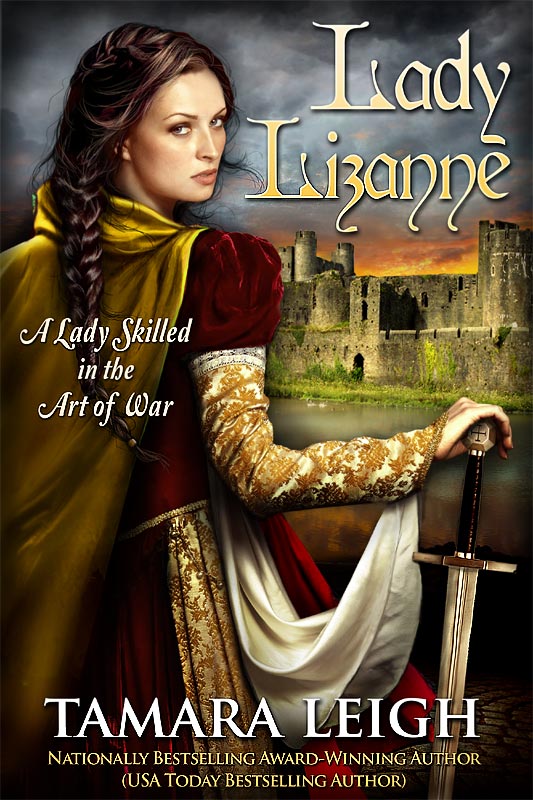 Pic #3:
Nice cape!
But not sure about the gold.
Oh, I almost forgot–I've decided on the title Lady At Arms.
What do you think?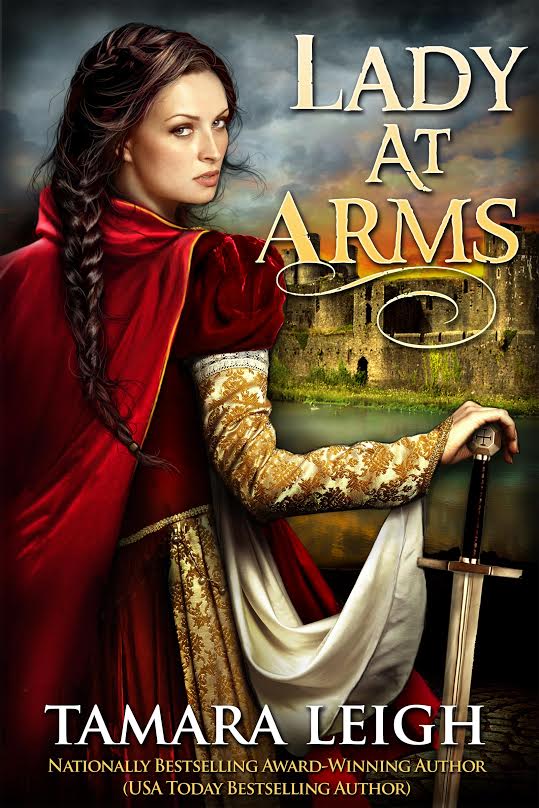 Pic #4:
Wow, you've done it!
We are there!
Now how much did you say this is going to cost me?
LADY OF EVE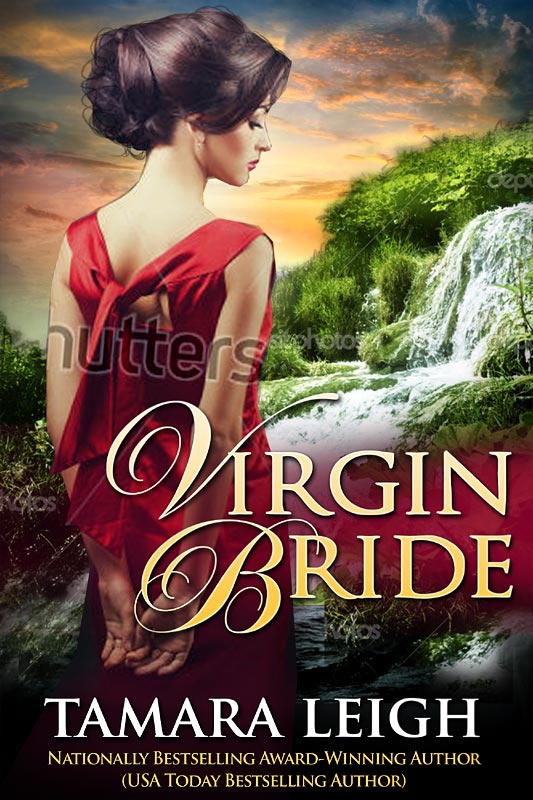 Pic #1:
Great choice of model.
She definitely has the look of my heroine.
I know I said "waterfall," but I'm thinking a castle in the same style as Lady At Arms since this is the sequel.
Tie it in, you know?
Pic #2:
She's coming along nicely.
The gown is very medieval, though I'm thinking blue.
Love the castle on the water.
However, the one in the story is across a rolling meadow.
Can't wait to see what you do with her hair.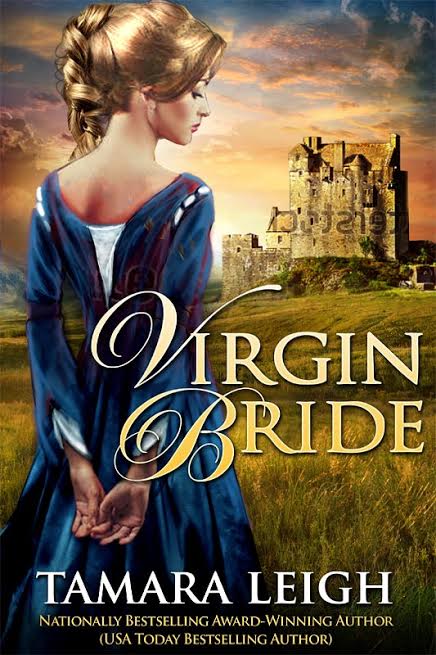 Pic #3:
Love the hair!
How do you do that?
And that's a good blue for the gown.
As for the castle and the rolling meadow–perfect!
Now the title… It was a tough decision, but I've decided to go with Lady of Eve. 
Again, tie it in with Lady At Arms.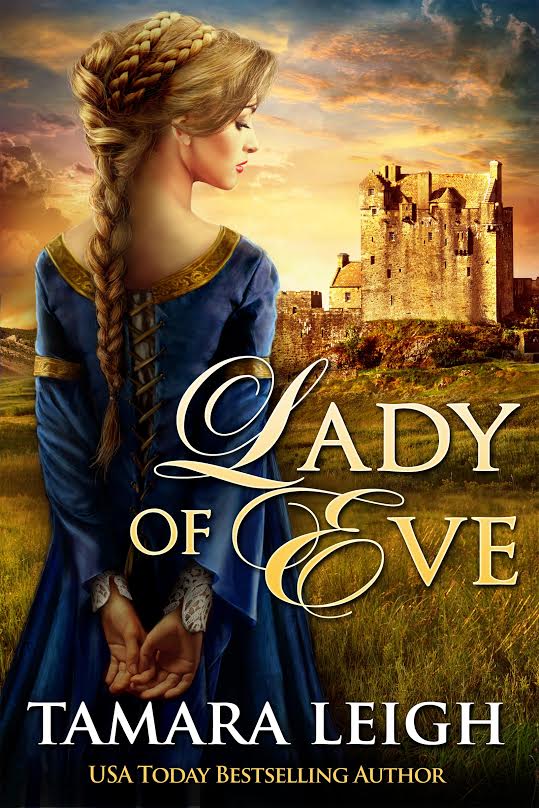 Pic #4:
Oh, you miracle worker, you!
I thought the hair looked lovely before, but now… Happy dancing!
And the gown with the lacings up the back and the bits of lace visible beneath the sleeves.
Sigh… You are worth every penny!
 ********
Tamara Leigh holds a Masters Degree in Speech and Language Pathology. In 1993, she signed a 4-book contract with Bantam Books. Her first medieval romance, Warrior Bride, was released in 1994, followed by Virgin Bride, Pagan Bride, and Saxon Bride.
In 2006, Tamara's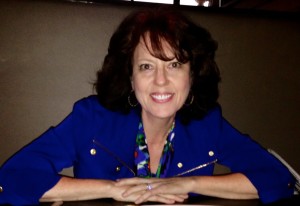 first inspirational contemporary romance, Stealing Adda, was released. In 2008, Perfecting Kate was optioned for a movie and Splitting Harriet won an ACFW "Book of the Year" award. Both books were released as audiobooks. In 2009, Faking Grace was nominated for ACFW "Book of the Year" and RITA awards. In 2011, Tamara wrapped up her "Southern Discomfort" series with the release of Restless in Carolina.
When not in the middle of being a wife, mother, and cookbook fiend, Tamara continues to write. Recently, she returned to the historical romance genre with the release of Dreamspell, her Age of Faith series. Lady At Arms, a "clean read" rewrite of her 1994 bestselling Warrior Bride, and now an Amazon bestseller, was given new life in January 2014.
Tamara lives near Nashville, Tennessee with her husband, sons, and a Doberman that bares its teeth not only to threaten the UPS man but to smile.
Relz Reviewz Extras
Reviews of The Kindling, The Redeeming, The Yielding, The Unveiling and Dreamspell
Review of Restless in Carolina and Character spotlight on Bridget & J.C.
Review of Leaving Carolina and Character spotlight on Piper & Axel
Review of Nowhere, Carolina and Character spotlight on Maggie & Reece
Interview with Tamara
Visit Tamara's website (she has great recipes, too!)
Buy at Amazon: Audiobook of Lady at Arms, LADY AT ARMS e-book, & LADY OF EVE e-book