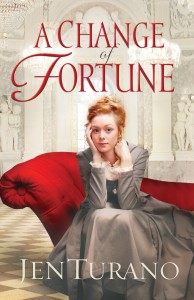 Synopsis:~
Lady Eliza Sumner is on a mission. Her fortune was the last thing she had left after losing her father, her fiance, and her faith. Now, masquerading as Miss Eliza Sumner, governess-at-large, she's determined to find the man who ran off with her fortune, reclaim the money, and head straight back to London.
Mr. Hamilton Beckett, much to his chagrin, is the catch of the season, and all the eyes of New York society–all the female ones, at least–are on him. He has no plans to marry again, especially since his hands are full keeping his business afloat while raising his two children alone.
Eliza's hapless attempts to regain her fortune unexpectedly put her right in Hamilton's path. The discovery of a common nemesis causes them to join forces and, before she knows it, Eliza has a whole retinue of people helping her. Eliza's determination not to trust anyone weakens when everyone's antics and bumbling efforts to assist her make her wonder if there might be more important things than her fortune and independence. When all of Hamilton's and Eliza's best-laid plans fall by the wayside, it will take a riot of complications for them to realize that God just might have had a better plan in mind all along.
My take:~
Loosen your corsets, ladies, Jen Turano's debut novel has arrived and side splitting laughter is the order of the day! The very British Lady Eliza is undercover, posing as a governess, determined to identify a thief and recover her fortune while New Yorker Hamilton Beckett is fending off young woman, left, right and centre, each one committed to forever altering his widower status. With a fresh and witty tone, Jen Turano combines charming and adorable characters, society intrigue and drama, and captivating romance for an exceptional debut novel. Eliza, though finding herself in more than one awkward situation is never lost for words and independent to a fault, Hamilton and his brother Zayne would catch any woman's eye yet are authentically drawn with a shining fault or two, and minor characters like Agatha, Theodore and Grayson are just begging for their stories to be told. Deeanne Gist, Mary Connealy and Karen Witemeyer will need to make room for this very talented writer of historical romantic comedy. I am delighted that A Change of Fortune is just the beginning of what I predict will be a blossoming career for Jen and can't wait to get my hands on A Most Peculiar Circumstance, the second novel in four book Ladies of Distinction series.
With thanks to Bethany House for my review copy
Relz Reviewz Extras
Download Jen's Gentlemen of her Dreams (Ladies of Distinction novella) free at Amazon
Jen's Author Alert
Visit Jen's website and blog
Buy A Change of Fortune at Amazon or Koorong