Wife, mum, world traveller, romantic
Contemporary romance author
My Stubborn Heart, Undeniably Yours
~~~~~~~~
What did you do on/for your 13th birthday?
I got my ears pierced! My mom had always told me I could have them pierced when I turned 14, then surprised me on my 13th birthday by letting me get them done one year early.
What 3 adjectives would your friends/family use to describe your personality?
Steady, optimistic, humorous.
How did your penchant for writing contemporary romance begin?
It began surprisingly. I'd always seen myself as an author who wrote historical romances for the general market. I even took a long trip down that path, before quitting the world of publishing to raise my children.
Seven years into my "retirement", God called me back to writing. This time, I knew for certain He wanted me to write for the Christian market or not at all. I still thought I was meant to write historicals, though.
I began work on a multi-generational book with three parts, the first two parts in historical time periods, the third part in the present day. I tried a few chapters in both of the historical time periods. Blah. Then I tried writing the present day story. Not blah! It stunned me, how much I adored writing a contemporary setting. It suited my voice and my sense of humour far better than my historical efforts ever had. I knew right away I'd found my niche. I scrapped the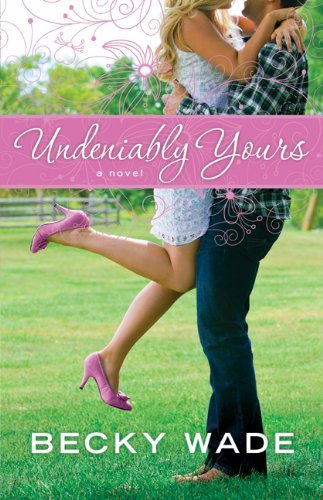 historical storylines and wrote only the present day story, which became My Stubborn Heart.
Describe Undeniably Yours in 5 adjectives
Romantic. Emotional. Faith-filled. Funny. Hopeful.
What creepy crawly or critter do you most fear?
We had a coyote on the loose in our neighbourhood recently! I wasn't worried about the coyote attacking me per se, but I was fearful for Sam, my little King Charles Spaniel. Ordinarily, I let him roam around in the front yard for a bit each day. Since the coyote, he's had backyard privileges only.
If you could bring one character to life from your own books, who would it be and why?
I'd bring Bo Porter from Undeniably Yours to life. Why? So I could marry him.
I love all my heroes. I live with them for a full year while I'm writing their story. If I'm going to spend that much time getting to know and understand a hero, then I'm determined it'll be a hero I can love! But there was something extra-special about Bo that snagged my heart. Whenever I think about him, I do so with a little catch of emotion. Isn't that crazy?
What's guaranteed to make you laugh?
The movie Best In Show.
Please share a favourite Bible verse
Acts 1:8a. "You will receive power when the Holy Spirit comes on you; and you will be my witnesses." I hear God assuring me through this verse that if I'm striving to be His witness through my writing, then He will equip me with the power of the Holy Spirit in order to accomplish His work. I pray this verse before each of my writing sessions. A definite favourite!
Thank you very much, Rel, for inviting me to visit you at RelzReviewz. It's an honour!
Always a pleasure, Becky!
Relz Reviewz Extras
Character spotlight on Bo & Meg
Review of My Stubborn Heart
Character spotlight on Matt & Kate
Get to know Becky
Visit Becky's website
Buy Undeniably Yours at Amazon or Koorong