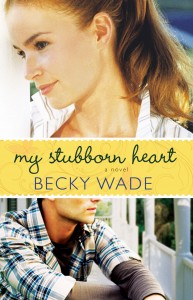 Jaded and grieving over the loss of a client, social worker Kate Donovan accompanies her feisty grandmother back to Redbud, Pennsylvania to help renovate Chapel Bluff, her grandmother's childhood home. Kate plans to use the time to rediscover her enthusiasm for her career and to gain a new perspective over past relationships gone sour.
Local contractor Matt Jarreau seeks solitude like a moth is drawn to a flame and is determined to get the job done at Chapel Bluff with as little human interaction as possible. Kate is drawn to the deeply attractive yet clearly emotionally wounded Matt, her compassion for his obvious pain on a par with the attraction she feels when in his presence. Despite Matt's prickly attitude, it is not in Kate's make up to allow anyone to shut themselves off from people and she continues to give Matt opportunities to connect with her and her grandmother's elderly yet enthusiastic friends.
Ever so slowly Kate's stubbornness wears down Matt's defences and he begins to engage with Kate, Gran and the effervescent Velma, Peg and Morty. Yet as his ice cold emotions begin to thaw, raw pain results threatening to shut down their burgeoning friendship and any secret hope Kate ponders for a future.
Becky Wade's debut novel creates a big splash in the contemporary romance pool with entertaining prose, sparkling dialogue, genuine wit and heartfelt emotions. Punching well above her weight as a first time novelist, Becky's work is comparable to the novels of Denise Hunter, Kristin Billerbeck and Susan May Warren. While Matt epitomises the handsome and brooding man romance writers thrive on, he has authentic flaws that colour his words, thought and actions and prevent him descending into an unrealistic heroic caricature. Kate's journey as an everyday girl caught up in an attraction with a man she perceives way out of her league makes for great character development and a maturing spiritual journey. Becky develops Kate and Matt's slowly evolving attraction beautifully, revealing their vulnerabilities and strengths and creating a truly inspiring love story. A word to those sensitive to language, there are a few word choices rarely found in Christian novels to date. My Stubborn Heart is a excellent beginning to what should be a rising career for this new author.
As seen at TitleTrakk
With thanks to Litfuse and Bethany House for my review copy
Relz Reviewz Extras
Visit Becky's website
Buy Becky's book at Amazon or Koorong