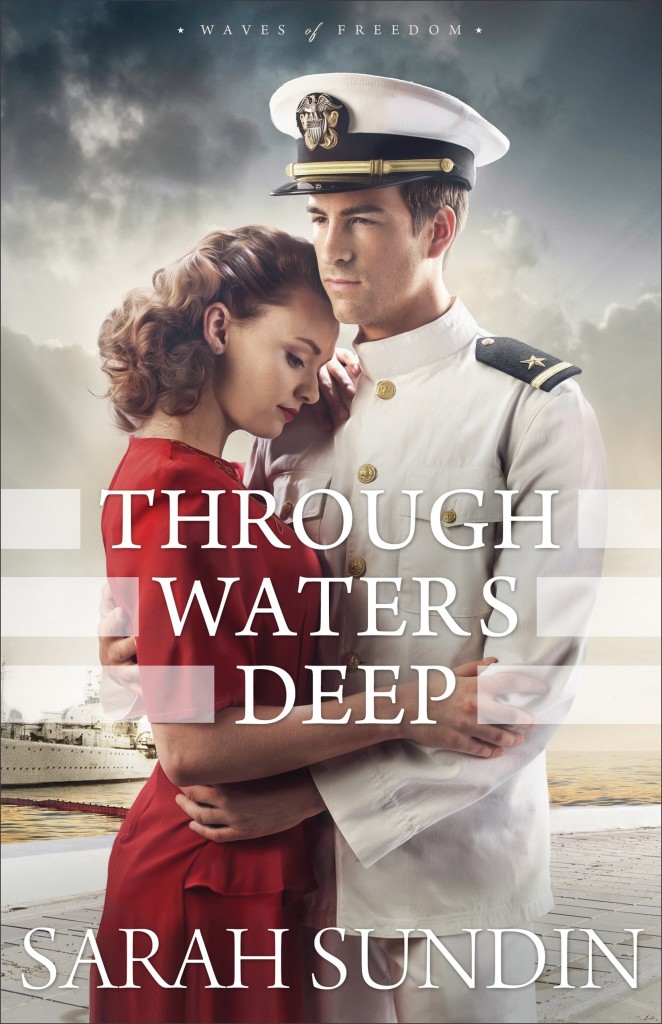 Meet a naval officer and a secretary in
Sarah Sundin's
WWII Romance
Through Waters Deep
Revell Books
The Story

It is 1941 and America teeters on the brink of war. Outgoing naval officer Ensign Jim Avery escorts British convoys across the North Atlantic in a brand-new destroyer, the USS Atwood. Back on shore, Boston Navy Yard secretary Mary Stirling does her work quietly and efficiently, happy to be out of the limelight. Yet, despite her reserved nature, she never could back down from a challenge. When evidence of sabotage on the Atwood is found, Jim and Mary must work together to uncover the culprit.

A bewildering maze of suspects emerges, and Mary is dismayed to find that even someone close to her is under suspicion. With the increasing pressure, Jim and Mary find that many new challenges–and dangers–await them.
Introducing Jim and Mary
Brief physical description
Ensign Jim Avery: tall and broad-shouldered. He has dark brown hair and hazel eyes and a boyishly handsome face.
Mary Stirling: She has dark brown hair and silvery blue eyes and a sweet, quiet beauty.
Resembles…
"Jim" – This is the photo I sent Revell when they were designing the cover. The model resembles Jim physically, this is the naval officer's uniform he wears, and his friendly grin is pure Jim!
"Mary 1" and "Mary 2" – These pictures remind me of Mary, especially her sweet expression.
Somehow, Revell took my feeble offerings and turned them into a drop-dead gorgeous cover. The cover models are just how I picture both Jim and Mary in my mind!
Strengths and weaknesses

Jim is friendly and easy-going, gets along great with people, and works hard. However, with his easy-going ways, he dislikes making waves and making unpopular decisions when people might get hurt—a problem for a naval officer!
Mary is quiet and analytical and efficient, modest and sweet-natured. Her weakness is her unwillingness to call attention to herself in any way, which sometimes holds her back from doing what she needs to do.
Quirk (if any)
Jim has scars on his palms from a childhood accident. When he's stressed, the scars bother him, and he rubs them.
Mary carries a notebook with her everywhere she goes, and she loves to take notes. This habit will serve her well when she's investigating a suspected case of sabotage at the Boston Navy Yard.
Your inspiration for the character
When I first had the idea for Through Waters Deep, Mary's role depended on her being quiet and unassuming, a person who asks a lot of questions and rarely talks about herself…the sort of person that people open up to.
Jim needed to be Mary's foil, cheerful and outgoing, and a bit oblivious to this young lady he's known since childhood.
Background to the story
While researching World War II, I was struck by what happened in the United States from 1939-41, when Europe had been embroiled in war for over a year but the US remained neutral. I was surprised that American warships escorted British convoys across the Atlantic, and that German U-boats sank one US destroyer and damaged another, killing over 100 American sailors…before Pearl Harbor! Also, while the United States was truly united during the war, in the years of neutrality, bitter arguments divided isolationists and interventionists. Rumors of sabotage and spies ran rampant. I decided to tell the story of a US naval officer on convoy duty in 1941, and an unassuming secretary at the Boston Navy Yard who becomes convinced that a saboteur is at work.
Thanks Sarah!
Sarah Sundin is the author of seven historical novels, including Through Waters Deep (Revell, August 2015). Her novel On Distant Shores was a double finalist for the 2014 Golden Scroll Awards. A mother of three, Sarah lives in northern California, works on-call as a hospital pharmacist, and teaches Sunday school and women's Bible studies. You can find her at www.sarahsundin.com.
Relz Reviewz Extras
Review of On Distant Shores, With Every Letter, Blue Skies Tomorrow & A Distant Melody
Character spotlight on Georgie & Hutch, Tom & Mellie, Ray & Helen, Jack & Ruth & Allie & Walt
RBC Book Club interview with Sarah ~ Part 1 & Part 2
Visit Sarah's website and blog
Buy from Amazon: Through Waters Deep or Koorong