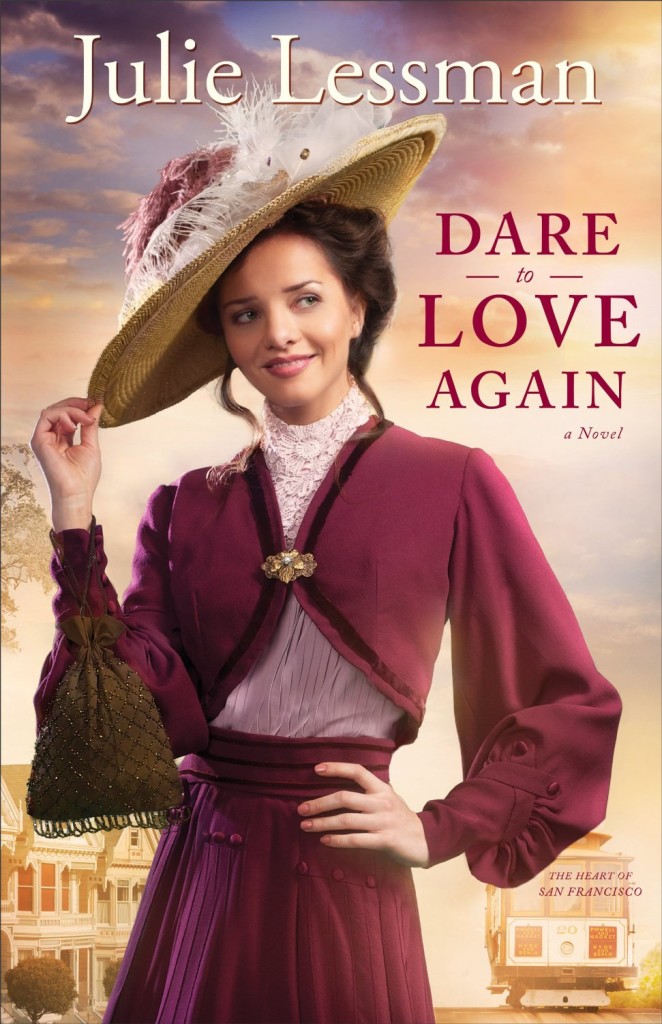 Synopsis:~
Spunky Allison McClare is determined to be a fearless, independent woman, resorting to a mammoth hat pin for protection on her way to and from the school where she teaches. But when she takes a notion to explore the wild Barbary Coast she quickly discovers she is no match for rum-soaked brute strength.
Detective Nick Barone would rather do almost anything than teach this petite socialite jiu-jitsu, but it seems he has little choice in the matter. Sparks fly every time the two meet until a grudging friendship develops into something deeper. But when Nick suddenly leaves town, Allison realizes he's a fraud just like all the rest of the men she's cared for. Does she dare love again?
My take:~
Julie Lessman returns with her unique brand of historical romance with her second Heart of San Francisco novel, Dare to Love Again, a sassy and engaging tale of two people seeking justice in differing ways. Allison desperately wants to make life better for the children she teaches and Nick has a personal mission that dictates his choices and colours his outlook on life. I really enjoyed these characters – in true Lessman style, their flaws are authentic and frustrating, leading to both funny and entertaining moments. Allison's feistiness and Nick's irritability make this couple a favourite of mine, their interactions are never dull and take twists you don't anticipate. While I struggled with a few elements and characters in Julie's previous novel, I have no such issues with Dare to Love Again. This book is a winner from start to finish!
With thanks to Revell for my review copy
Relz Reviewz Extras
Reviews of Love at Any Cost, A Light in the Window, A Love Surrendered, A Hope Revealed,  A Hope Undaunted, A Passion Most Pure, A Passion Redeemed & A Passion Denied
Character spotlights on Sean & Emma, Cluny & Katie, Lizzie & Brady and Marceline, Patrick & Sam
Julie's FamilyFiction Plus
Interview with Julie
Visit Julie's website
Buy Dare to Love Again at Amazon or Koorong
Be sure to watch Julie's Mad Minute video below and then check out my exclusive audio interview with Julie on my Audio & Video page!