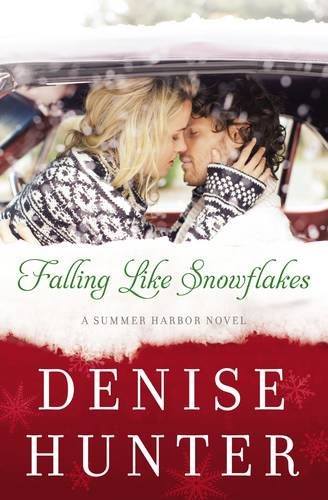 Synopsis:~
Eden Martelli is too busy fleeing the clutches of danger to realize she's running straight into the arms of a new love.
Speeding north through rural Maine, Eden Martelli wonders how her life came to this—on the run with her mute five-year-old son dozing fitfully in the passenger seat. When a breakdown leaves them stranded in Summer Harbor, Eden has no choice but to stay put through Christmas . . . even though they have no place to lay their heads.
Beau Callahan is a habitual problem solver—for other people anyway. He left the sheriff's department to take over his family's Christmas tree farm, but he's still haunted by the loss of his parents and struggling to handle his first Christmas alone.
When Eden shows up looking for work just as Beau's feisty aunt gets out of the hospital, Beau thinks he's finally caught a break. Eden is competent and dedicated—if a little guarded—and a knockout to boot. But, as he soon finds out, she also comes with a boatload of secrets.
Eden has been through too much to trust her heart to another man, but Beau is impossible to resist, and the feeling seems to be mutual. As Christmas Eve approaches, Eden's past catches up to her.
Beau will go to the ends of the earth to keep her safe. But who's going to protect his heart from a woman who can't seem to trust again?
My take:~
Denise Hunter is my go-to girl for contemporary romance and Falling Like Snowflakes hasn't changed a thing! Denise writes with tenderness, passion, and insight, creating characters that resonate, as much for their multi-layered personalities as their failings and challenges. With a real knack for romantic tension that isn't over done, readers will fall in love with the Callahan brothers, Eden, and her little boy. The first in her new Summer Harbor series, readers will be eager for Riley and Zac's stories. While Eden and Beau's HEA is assured, the touch of suspense and the interpersonal complications that require resolution makes Falling Like Snowflakes satisfying, romantic, and sure to please Denise's faithful readers and garner her plenty of new ones!
With thanks to Thomas Nelson for my review copy via NetGalley
Relz Reviewz Extras
Character spotlight on Dylan (The Trouble with Cowboys)
Reviews of Dancing with Fireflies, A December Bride, Barefoot Summer, The Trouble with Cowboys, A Cowboy's Touch, The Accidental Bride,Smitten, Driftwood Lane, Seaside Letters, Surrender Bay, The Convenient Groom and Sweetwater Gap
Character spotlight on Jake (Driftwood Lane)
Character spotlight on Sabrina & Tucker (Seaside Letters)
Interview with Denise
Visit Denise's website and blog
Buy at Amazon: Falling Like Snowflakes or Koorong