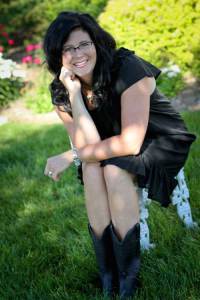 Introducing debut novelist
Amy Sorrells 
and her coming of age novel
How Sweet the Sound
David C Cook
~~~~~~~~~
What was a favourite childhood book of yours?
The Borrowers fascinated me, tiny little people using everyday objects like thimbles and strings and matchboxes to create a whole world beneath the floorboards and behind the walls. I remember a fierce longing to be like them, to be able to crawl into a hole in the baseboard and emerge as someone safe and unseen like them.
Do you remember the title of the first story you ever wrote? What was it about?
I'm not sure about a story per se, but I remember filling an entire blank journal full of poems in kindergarten, featuring lots of crayon, sunshines, and gardens. I've been filling them ever since.
If you weren't a writer, what career would you/did you/do you have pursued?
Few things make me more grateful than having pursued and now realized two careers, both of which drew me towards them at the earliest of ages: writing and nursing. In fact, I drove my college advisors (and my parents) crazy switching my major from biology to creative writing to medicine to creative writing to nursing. The two are not dissimilar, both providing hope to a hurting world through the touch of a hand and the touch of prose. We are all grateful I am using all of those college credits to the fullest extent now.
Why do you write stories?
The byline of my blog is "Words of Hope for a Hurting World." I write to find hope, to give hope, and yes, even to destroy hope and build it back again.
How Sweet the Sound
From a distance, the Harlans appear to be the perfect Southern family. Wealth and local fame mask the drama and dysfunction swirling through their family line. But as the summer heats up, a flood tide of long hidden secrets surface.
Devastation from a rape followed by the murder of two family members brings three generations of the Harlans together on their pecan plantation in Bay Spring, Alabama. Chief among them is Anniston, who by the time she turned thirteen thought she'd seen it all. But as her heart awakens to the possibility of love, she begins to deal with her loneliness and grief.
This tender coming-of-age tale, inspired by the story of Tamar in 2 Samuel 13, shows how true healing and hope comes only from God. Though our earthly family can wound and disappoint, our heavenly Father brings freedom to those long held captive through His mercy and grace.
Describe your novel in 5 adjectives
brave
illuminating
tragic
hopeful
redeeming
Please share a little about one of your main characters
Jed is the new kid in town, a teenager tossed from foster home to foster home, who befriends the main protagonist, 13-year-old Anniston, much to her grandmother's chagrin. He's a rebel, but with good cause and a sense of humor to go along with it. He can often be found, nicotine-stained fingers gently turning the pages of biology and fossil anthologies in the library. What he wants most is freedom, and though it seems he may be the furthest character in the story from it because of the fear and brokenness pressed into his being deeper than the fossils he finds, he just may be the one to help the rest of the characters find it by the book's end.
What spiritual theme or question does your story deal with?
Can the brokenhearted find healing? Can captives find liberty? Can those who are bound realize the bars of their prisons have been opened by the grace and unfailing presence of God? (Isaiah 61)
Share a recent movie or tv show that you have loved, and why?
Frozen. Because, "Let it go."
What novel are you working on now?
I'm currently in the middle of edits for my second novel, due to publish in spring, 2015, which features a 94-year-old man near the end of his life who escaped the Jewish pogroms of turn-of-the-century Ukraine, and whose daughter learns for the first time about what he suffered, even as his mind slips further into dementia. Together, they learn how God never leaves and that He truly does see all our wanderings and seals our tears in a bottle. (Psalm 56:8)
Thanks so much, Amy!
Relz Reviewz Extras
Visit Amy's website
Buy How Sweet the Sound from Amazon or Koorong