Wife, mum, grandma, award winner, farm girl
Author of contemporary women's fiction
After All, Remember to Forget, A Vow to Cherish, & more
~~~~~
What did you do on/for your 13th birthday?
That was so long ago! I truly don't remember, but assuming it was like most of my childhood birthdays, my mom made me a frosted angel food cake encircled with the pink old-fashioned roses and peonies that were always in bloom in time for my birthday on the farm where I grew up.
What 3 adjectives would your friends/family use to describe your personality?
optimistic, friendly, talkative (not sure if that's good!)
Where did your penchant for writing women's fiction begin?
I've always written the type of books I like to read, and women's relationships with family and friends has always been a fascinating topic for me.
Describe (your novel) in 5 adjectives
Compelling, moving, mysterious, conflicting, satisfying.
What creepy crawly or critter do you most fear?
Snakes!
If you could bring one character to life from your own books, who would it be and why?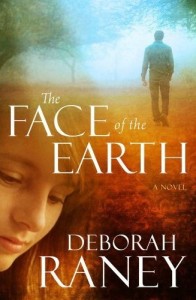 Wade Sullivan from A Nest of Sparrows. He's just an all-around great guy!
What's guaranteed to make you laugh?
My husband! NO ONE can make me laugh like he can! I love it (and him!)
Please share a favourite Bible verse 
Romans 8:28 because it seems to be the theme of my life. Things––even the hard things––in my life have always worked for good. Sometimes it takes a while, but I usually am able to see God's hand on my life (and what He was trying to teach me) even through the tough times.
Thanks Deb!

Relz Reviewz Extras
Character spotlight on Bryn & Garrett
Reviews of Forever After, Almost Forever, Beneath a Southern Sky, Remember to Forget and Leaving November
Visit Deb's website
Buy The Face of the Earth at Amazon or Koorong