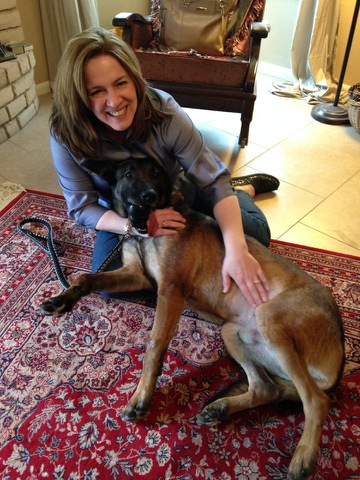 The Reading Habits
of
Ronie Kendig
**********
Are you a re-reader? 
I am not a re-reader—there are very few books that I have re-read (CS Lewis's Screwtape Letters, Henry Blackaby's Experiencing God). But for the most part, I don't re-read fiction because to me it's all about the thrill of discovery—what happens? Why did it happen? Once I know that, the thrill is gone for me.
When is your optimal time to read – do you prefer to read in one long block, or do you also read for five minutes here or there when you can?
I do a little of both—depending on the book. For the large part, those that I binge-read are fiction titles. I tend to take longer (better absorption rate? LOL) with non-fiction.
I'd love your thoughts on novellas. Are you thumbs up or down? Or does it depend?!
It depends on the story—I love novellas that are essentially prequels to longer stories, ones that give you the backstory on the main story. A novella demands that details be scaled back, so sometimes, I don't enjoy novellas as much because I feel like the story is just starting, when really it's just over.
Are you faithful to a genre, an author, or simply quality writing?
I'm pretty faithful to a couple of genres—suspense, speculative, YA. But of course, I demand quality writing for an enjoyable experience. Who has time for a bad read, even if it is speculative or suspense?
Which factors most influence your selection of a book?
Author credibility is probably the largest influence on my selection. If the author is a debut author, I tend to step a little more hesitantly into their literary waters. After credibility/dependability would probably be writing sample – I will open the book and scan passages to get a feel for the style, voice, and pacing.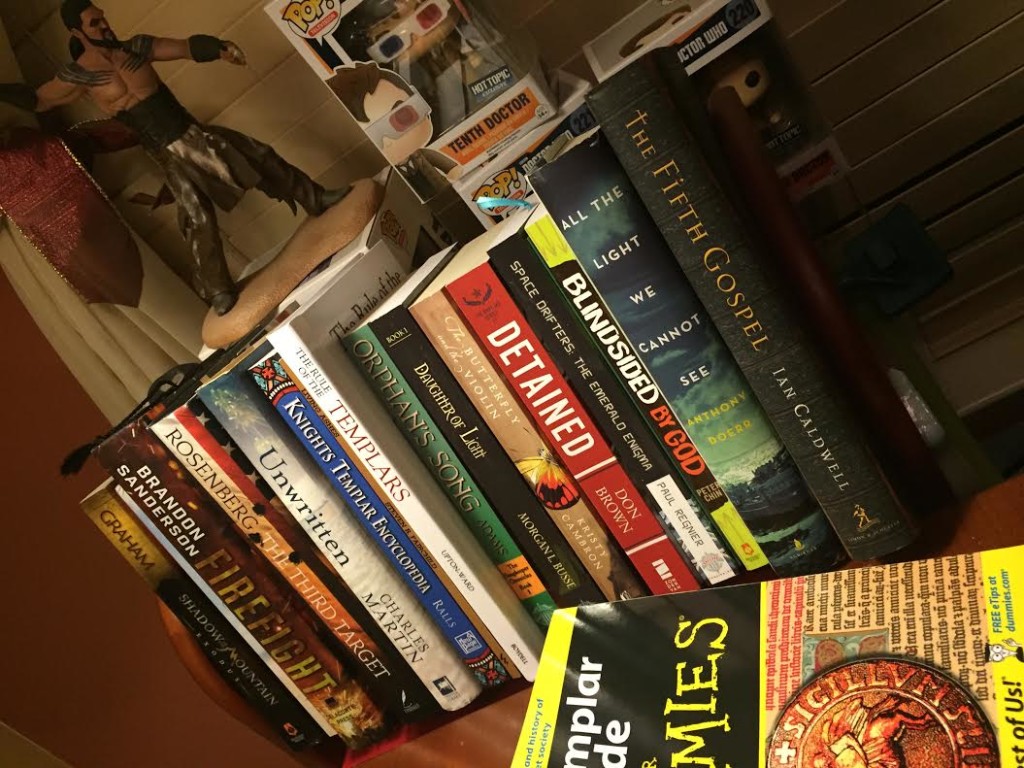 A small part of Ronie's bookshelf
Your fiction pet peeve?
Reading a book by a female author who doesn't nail the male POV. If the writing style/voice is such that I keep thinking the hero is a female, I'm going to stop reading. Or if I read about a guy giggling…I start disengaging from the story.
What book have you read this year that you could not put down, and why?
Katie Ganshert's The Gifting. She really surprised me with not only a speculative story, but a very solid story—that actually creeped me out a bit. That's hard to do to another author, when we've all been trained or learned how to create that build up. Very well done.
How do you mark your spot – folded page corner, bookmark, dollar bill, whatever is at hand?
Bookmark!! Even if it's a receipt. Or a gum wrapper (um, minus the gum). I almost never dog-ear a page.
Whose debut novel impressed you more than you anticipated?
Mary Weber's Storm Siren – I was lucky enough to get an early copy before it released, and the story, her voice, her style—just everything about it blew me away. The girl's got skills.
When reading, what makes or breaks a story for you?
Believability. I get it that it's fiction—sometimes, we have to strain believability a bit. But when someone writes about something I KNOW won't happen (for legal or sensible) reasons, I lose faith in the story. Or if there is another plausible solution to the scenario that is glaringly obvious and would've solved the problem on page 50 instead of page 250…I'm done.
What are some of your favourite CF reads from around 10 years ago, or further back?
Stephen Lawhead's Search for Fierra, Kathy Tyers's Firebird, Ted Dekker's Circle series, Jerry Jenkins' Jennifer Grey series, and yes, I confess, the early Left Behind series.
Snack/drink of choice while reading?
A skinny vanilla latte—and usually only in a double-insulated tumbler. I rarely eat while enjoying a book because I don't want to get the book dirty!
What book cover has really caught your eye?
I love Mary Weber's Storm Siren, Thomas Locke's Emissary, and Don Brown's upcoming Code 13 covers. I bought Cassandra Clare's Clockwork Angel, Victoria Aveyard's Red Queen and Sabaa Tahir's An Ember in the Ashes—all because of the covers (which lured me into reading the back-cover copy).
Which author makes it easy to turn off your internal editor?
I'm learning more and more to turn off that editor. It's too easy to get snobby as an author. I'm working to remember how to simply be a reader. For me, James Rollins, Joel Rosenberg, Brandon Sanderson, Mary Weber, and Robert Jordan make it most easy for me to turn off that editor.
What book do you wish you had written? Why?
I honestly cannot remember which one it was, but one of Joel Rosenberg's early books with character David Shirazi made me wish I'd written it because he had so many cool and relevant events in that story. I've been a loyal reader ever since.
Don't miss Ronie's latest novel ~ the beginning of an epic fantasy!
Embers
He's coming for them. And the kingdom.
Haegan and Kaelyria Celahar are royal heirs of the Nine Kingdoms, but Haegan is physically crippled. What chance does he have against Poired Dyrth, the greatest enemy the kingdom has ever faced, who wields fire with a power none can match?
Their only hope is forbidden: Kaelyria must transfer her fire-harnessing abilities to Haegan. When she does it comes with a terrible price: Haegan's disability is healed, but only by being transferred to Kaelyria. This decision causes their father, the King, to unleash his wrath against Haegan.
Haegan must flee the kingdom alone with two impossible tasks: Find a cure for Kaelyria and stop the coming war with the omnipotent Poired Dyrth.
Relz Reviewz Extras
Endorsements of Embers, Raptor 6, Hawk and Falcon
All things Kendig @ Relz Reviewz
Visit Ronie's website and blog
Buy at Amazon: Embers