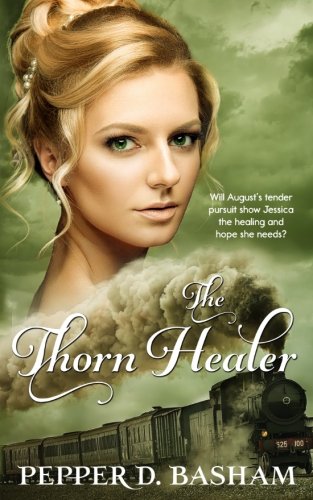 Synopsis:~
Jessica Ross' scars run much deeper than the wounds of a world at war. Determined to escape the ghosts of her past and the German influence on her nightmares, she returns home to the sleepy Appalachian town of Hot Springs, NC, only to find the renowned Mountain Park Hotel has been converted into a 'prison' for displaced Germans and, much to Jessica's dismay, her grandparents have befriended one of them.
August Reinhold has not only found kinship with Jessica's grandparents, but as they share their granddaughter's letters from the Front, he discovers a surprising bond drawing him toward the independent and beautiful woman. Displaced by a war and a painful history, he find Hot Springs and the intriguing, Jessica Ross, a tempting place to start over. Determined to scale the heights of her bitterness and show her the power of love, August faces more than just Jessica's resistance, but a more devious design to harm the civilian sailors housed in Hot Springs.
Will August's tender pursuit show Jessica the healing and hope she needs, or will bitterness force her into the hands of a 'true' enemy waiting to destroy much more than her heart?
My take:~
Pepper Basham's third historical romance is fascinating, romantic, and uplifting. Reminiscent of Susan May Warren's Nightingale, The Thorn Healer tackles prejudice and suffering during World War II, but in the Appalachian mountains, not the battlefields of France. Deeply scarred at the hands of a German soldier during her time nursing in the early years of the war, Jessica is outraged and grieved to discover German internees are held in her beloved Hot Springs. Basham uses Jessica's bitterness and August Reinhold's generosity of spirit to create a whirlwind of conflict for Jessica as she wrestles with the call to forgive from a God she believes deserted her. Spiritual truths, historical detail, and romantic attraction are liberally sprinkled throughout this tale, resulting in a captivating and thought-provoking read.
With thanks to the author for my review copy
Relz Reviewz Extras
Review of The Thornbearer & A Twist of Faith
Visit Pepper's website
Connect with Pepper: Facebook || Twitter
Buy at Amazon: The Thorn Healer