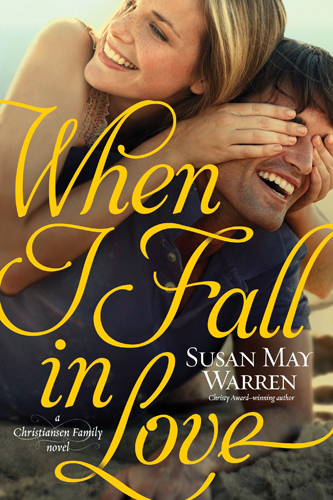 Synopsis:~
Hawaii was the last place Grace Christiansen ever imagined she'd vacation, much less fall in love. But when her family surprises her with a cooking retreat in paradise, she is pulled—or maybe yanked—away from her predictable, safe life and thrown headfirst into the adventure of a lifetime.
Max Sharpe may make his living on the ice as a pro hockey player, but he feels most at home in the kitchen. Which is why he lives for the three-week culinary vacation he takes each year in Hawaii. Upon being paired with Grace for a cooking competition, Max finds himself drawn to her passion, confidence, and perseverance. But just when Grace dares to dream of a future beyond her hometown, Max pulls away.
Wrestling with personal demons, Max fights against opening his heart to a love he knows he should never hope for. And as his secrets unfold, Grace is torn between the safe path in front of her and what her heart truly desires. If love means sacrificing her ideal happily ever after, Grace's faith will face its toughest test yet.
My take:~
The Christianson family returns in Susan May Warren's When I Fall in Love and she once again serves up a charming romance while providing substance through the life-altering challenge facing hockey player and food aficionado, Max Sharpe. Determined to enjoy his downtime in Hawaii, Max reluctantly looks out for Grace Christiansen as the behest of Jace Jacobson whom readers will recognise from the previous book, It Had to Be You. The dialogue between Max and Grace, two people who have struggled in relationships for differing reasons, is fabulous – witty, sweet, and engaging. The spiritual themes about fear and overcoming are strong and are woven well throughout the entire novel. And while there is the prerequisite happily ever after, it is not without its complications both now and in the future. I don't want to spoil the story for readers so won't go into any detail, however, I'm delighted Susie May didn't take the easy (although improbable) way out by providing a resolution that would have not been authentic. My only hesitation with this story is it became a tiny bit "soap opera" for me regarding some minor characters. Susie is clearly setting up the future stories and I'm going to have to trust in her talent and writing cred that one particular story thread will not be overcooked! All that said, this series is quite captivating and the characters easy to love, with the intention exception of one whose redemption story will not take place without a fight!
With thanks to Tyndale House for my review copy via NetGalley
Relz Reviewz Extras
Character spotlight on Lilly
Character spotlight on Jinx Worth
Reviews of Take a Chance on Me, The Shadow of Your Smile, Hook, Line, & Sinker, Waiting for Dawn, My Foolish Heart, Baroness, Heiress, Nightingale & Sons of Thunder
Visit Susie's website and blog
Buy at Amazon: When I Fall in Love (Christiansen Family) or Koorong