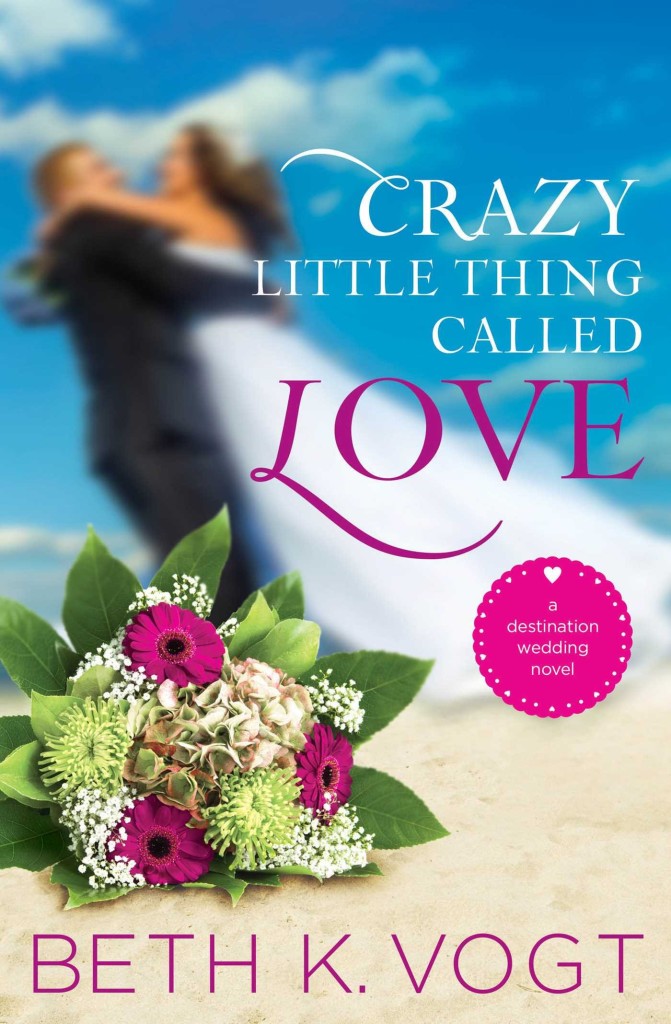 Meet a paramedic and a storm chaser in
Beth K. Vogt's
contemporary romance
Crazy Little Thing Called Love
Howard Books
*******
The Story

Growing up, Vanessa Hollister was always the new kid in town thanks to her father's military career – but now as a successful paramedic, she is ready to put her adolescence behind her. While planning her elegant destination wedding in Florida, the reappearance of her first husband – a man with whom she eloped with as a teenager – threatens to interfere with her dream scenario.

Logan Hollister is used to taking risks as a professional storm chaser. But his confidence is shaken following a reckless decision during the last tornado season – now he is questioning the future of his team, the Stormmeisters. Coming face-to-face with his ex-wife eight years after their divorce compels him to confront his greatest regret of all: losing Vanessa.

Should Logan and Vanessa accept, once and for all, their teenage marital mistake? Or is God offering them a second chance at happily ever after?
Introducing Vanessa & Logan
Brief physical description
Vanessa: Tall, brown eyes, long brown hair that she wears in a braid. When Vanessa was in high school, she wore her hair shorter because she was on swim team.
Logan: Tall, about six foot, muscular. Logan wore his dark blond long – shoulder-length – in high school. Now it's cut short. Blue eyes.
Resembles…
Vanessa: Anne Hathaway – both as a teen and as an adult.
Logan: Paul Walker, as portrayed here, looks like the adult Logan (his hair would be a little darker though).
Strengths and weaknesses
Vanessa: She is good at saying hello and saying goodbye – but she doesn't know how to do the relationship in between those two words.
Logan: When Crazy Little Thing Called Love opens, Logan doubts himself and his ability to lead his storm-chasing team, the Stormmeisters, because there was an accident and one of his teammates was injured. As the leader of the team, he holds himself responsible.
Quirk (if any)
Vanessa: She likes to drink Coke flavoured with a squeeze of lemon. She also likes to wear boots and has a fun collection of different boots.
Logan: Logan drinks Coke flavoured with a squeeze of fresh lemon too – something he introduced Vanessa to. Even before they were married, he and Vanessa had the same last name.
Your inspiration for the character
Vanessa: I had several inspirations. One was my own experience being married to someone in the military and raising our children – having to move, say goodbye to friends, and make new friends. We didn't move as frequently as some families have to, but I wanted to examine one of the possible ways a person can be affected by multiple moves growing up. I also had several friends who got married right out of high school and I wanted to explore that idea a little bit, specifically what might happen if a couple eloped during high school spring break – could that marriage survive?
Logan: I wanted Logan to be a risk-taker, but I didn't want him to be the stereotypical "bad boy." After mulling it over for a while, I decided he'd be a storm-chaser – someone who chases tornadoes and collects data for research. While I was doing my research for the novel, I discovered that ChaserCon, an annual convention for storm chasers, takes place in Denver. And I also discovered that three very well-known storm chasers had been killed by a tornado in 2013: Tim Samaras, his son, Paul Samaras, and Carl Young. 

Background to the story:
Our family lived in Niceville, Florida for eight years while my husband was stationed at Eglin Air Force Base and we spent many afternoons swimming at Destin Beach. We also rode out Hurricane Opal, which is what I modelled Hurricane Cressida after when I wrote Crazy Little Thing Called Love. Doing so gave me the first opportunity to ever write myself into a book. While she's in the shelter, Vanessa sees a mom reading aloud to her three children. That was me during Opal!  In the middle of the hurricane, I read aloud from the Little House on the Prairie series to our three kiddos, Josh, Katie Beth, and Amy. (Our daughter, Christa, wasn't born yet.)
It was also quite challenging to try to get into the mindset of my characters when they were in their late teens. When Logan and Vanessa came to tell her parents that they'd eloped, I tried to imagine how my husband would react to that news. That's one of the things that guided me as I wrote that scene.
---
Beth K. Vogt is a non-fiction author who said she'd never write fiction, the wife of an Air Force physician who said she'd never marry anyone in the military and a mom of four who said she'd never have kids. Vogt believes God's best often waits behind the doors marked "never." A 2014 Carol Award finalist, her 2014 novel, Somebody Like You, was one of Publisher's Weekly's Best Books of 2014. She lives in Colorado with her husband, Rob, and their youngest daughter.
For more information about Beth, visit her website, become a fan on Facebook or follow her on Twitter and Pinterest.
Relz Reviewz Extras
Reviews of Somebody Like You, Catch A Falling Star, Wish You Were Here, and Crazy Little Thing Called Love
Character spotlight on Kendall & Griffin
Character spotlight on Allison & Daniel
Interview with Beth
Beth's Author Alert 
Visit Beth's website
Buy at Amazon: Crazy Little Thing Called Love or Koorong