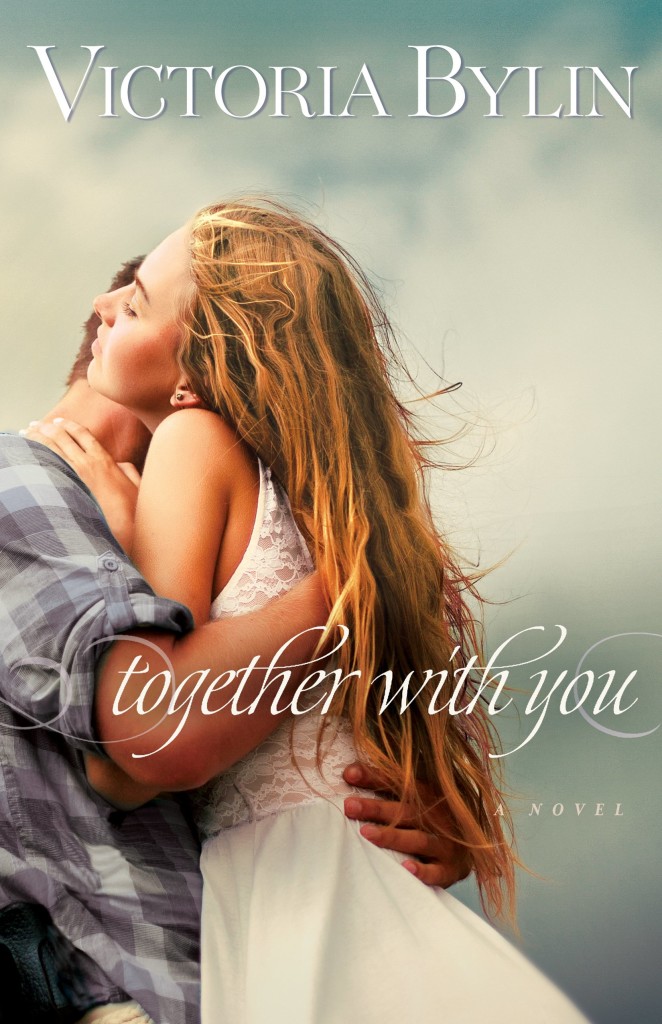 More contemporary romance mini reviews for you!
Enjoy…
Together With You by Victoria Bylin
When a Lost Child warning blares over the mall's PA system, Carly Mason finds the little girl playing with a stuffed rabbit. Something about Penny Tremaine is different. An ex-social worker, Carly recognizes that the child suffers fetal alcohol effects, and a piece of Carly's past suddenly confronts her. Never again will she become personally involved with a client. The risks are far too great. But something about Penny–and Penny's handsome father–tugs at Carly's heart.
Dr. Ryan Tremaine is trying to put his life back together. With his ex-wife remarried and on a trip far away, his two teenage sons and Penny are living under his roof full time. Ryan has put his faith in his Sink-or-Swim list, a plan to reconnect with his children. The first step: recruit Carly Mason to be Penny's nanny.
Ryan never anticipated being so drawn to Carly, an attraction Carly seems to fight as much as he does. Could Carly be the missing piece that helps his family stay afloat, or will their blossoming romance only complicate things further?
My take:~
Victoria Bylin has a winner on her hands with Together With You. I love her unique characters, especially Ryan, a man without faith, divorced, and at a complete loss with how to manage his children – not in the dreadful "hopeless male" stereotype, but a man out of his depth and insecure in his place as father and carer. The age gap between Ryan and Carly further adds an atypical spin, along with Penny Tremaine and her battle with fetal alcohol syndrome. The romance is sophisticated and intriguing, as is Ryan's steps towards spiritual belief and Carly's choices as she falls in love with a man opposed to her faith and moral choices.
Relz Reviewz Extras
Discover more about Victoria
Character spotlight on Nick & Kate (Until I Found You)
Visit Victoria's website
Buy at Amazon: Together With You or Koorong
The Wonder of You by Susan May Warren
Mortified after her semester abroad is cut short, Amelia Christiansen returns to Deep Haven, certain she isn't brave enough for the adventures she's dreamed of. The last thing she expects is for the man who broke her heart to cross the Atlantic and beg forgiveness.
Heir to a European hotel dynasty, Roark St. John has trekked from one exotic locale to another, haunted by tragedy and the expectations that accompany his last name. Amelia is the first woman to give him a reason to stop running. He'll do anything for a second chance—even contend with Amelia's old flame, who is intent on sending Roark packing.
While one surprise after another leaves Amelia reeling, Roark's continued presence only highlights the questions pursuing her. Like him, is she running from the life God has called her to? Could finding her new place mean leaving home behind?
My take:~
The fifth Christiansen Family novel picks up where Always On My Mind left off with Amelia arriving home and the men in her family going all Terminator on the man who broke her heart, Roark St. John! This novel confronts the importance of honesty and trust in relationships, the devastation that secrets can wreak, and the hope that forgiveness brings. Readers will delight in the continued antics of the Christiansens and revel in the devotion to family, community, and faith that underpins this series.
Relz Reviewz Extras
Reviews of When I Fall in Love, It Had to Be You, and Take a Chance on Me
All other things Susie May @ Relz Reviewz
Visit Susie's website and blog
Buy at Amazon: The Wonder of You or Koorong
By Your Side by Candace Calvert
ER nurse Macy Wynn learned essential, gritty lessons in the California foster care system: land on your feet and trust no one. She's finally located the fellow foster child she loves like a sister, but the girl's in deep trouble. Macy's determined to help, no matter what it takes. Her motto is to "make it happen" in any situation life throws at her—even when she butts heads with an idealistic cop.
Deputy Fletcher Holt believes in a higher plan, the fair outcome—and his ability to handle that by himself if necessary. Now he's been yanked from Houston, his mother is battling cancer, and he's attracted to a strong-willed nurse who could be the target of a brutal sniper.
When everything goes wrong, where do they put their trust?
My take:~
Candace Calvert has a winning formula with her novels – medical drama, compassionate and dedicated health professionals, sparkling attraction, and a whisper of suspense. Fletcher and Macy are complex, well developed characters that have been shaped by their individual histories. Macy is a foster care survivor and Fletcher, determined to handle his mother's cancer diagnosis for her. By Your Side is an exciting read and will entrench Candace's devoted fans and garner her many new readers.
Relz Reviewz Extras