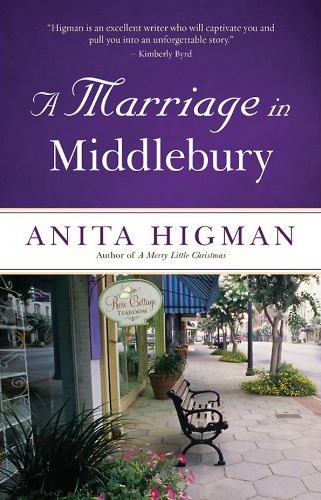 Synopsis:
What happens when the matchmaker finds a match for herself? 
Charlotte Rose Hill has been serving up country delicacies, uniquely blended teas, and matchmaking advice for her quirky but beloved customers for more than 10 years.  But for her, marriage seems like an elusive butterfly, always out of reach.  At 18, Charlotte fell in love with a young man, Sam Wilder, but his family convinced her to walk away from their relationship.  She did, and then became engaged to another man, who later died before they were married.  Now, more than a decade later, Charlotte finds that she still has feelings for her first love.  Initially thrilled to learn that Sam has come home to Middlebury, Texas, Charlotte is devastated to learn that he's brought someone with him: his fiancée.  But all is not lost when the townsfolk decide to get involved.
 Will Charlotte and Sam find their way back to each other?
What I thought:
A Marriage in Middlebury is a delightfully enchanting novel penned by an experienced and talented author.  With antics and expressions which reminded me of Anne of Green Gables, I was instantly charmed by Higman's characters.
This novel takes place in small-town Texas and I was quickly taken with the protagonist owning a tea-room cottage.  I could easily imagine such a setting and the in-your-pocket relationships that often characterise small-town life.  Each of the characters in this story demonstrated endearing idiosyncrasies which get themselves into their share of foibles making them easy to relate to.  I appreciated the development of the relational triangle that developed between Sam, his fiancé and the gardener and this element made the ending entirely satisfying.
At first I wondered if this would be a story that ended up being a little corny and clichéd.  As I got to know Charlotte and Sam and their circle of friends and acquaintances I found Higman had deftly woven a light tone with a much deeper message.  Charlotte and Sam's story made me acutely aware of how one decision can turn the course of a person's life, and how God can intervene so that His will is accomplished despite human intervention.
If you are someone who enjoys a light romantic and a cup of tea A Marriage in Middlebury will be just the thing for you.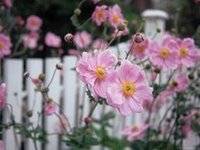 Guest reviewer: My friend Tracy from Beyond My Picket Fence
With thanks to Litfuse for Tracy's review copy
Relz Reviewz Extras
Review of Winter in Full Bloom
Character spotlight on Charlotte
Character spotlight on Lily Winter
Character spotlight on Franny Martin (A Merry Little Christmas)
Visit Anita's website
Buy A Marriage in Middlebury at Amazon or Koorong