Wife, mother, speaker, Californian turned Texan
Writer of historical romance
A Tailor-Made Bride, To Win Her Heart, Short-Straw Bride, & more
~~~~~~~~
What did you do on/for your 13th birthday?
It is a tradition in our family to have a special celebration when a child turns 13, so my mom planned a weekend trip for us. We stayed in a hotel, ate out at a nice restaurant, and spent quality time talking about those important "coming of age" things that mothers and daughters need to discuss. Two years ago, I planned a similar trip for my own daughter. Two memories I cherish.
What 3 adjectives would your friends/family use to describe your personality?
Task-oriented, optimistic, loves to laugh
Where did your penchant for writing historical romance begin?
I've always been drawn to historical stories. From Little House on the Prairie and Ann of Green Gables when I was a child to the historical romance novels I discovered in my late teens. I ate up old TV westerns whenever I could find the reruns, fell in love with series like Dr. Quinn Medicine Woman and Christy in the 80s and 90s, and adored all the Disney fairy tales. (I still adore them today, and love having children as an excuse to buy those DVDs.) There is just something about a story in a historical setting that enhances the fairy tale romance elements for me. When I started writing novels, there was never any doubt what genre they would be. I only write what I love to read, and what I love to read is historical romance.
Describe Stealing the Preacher in 5 adjectives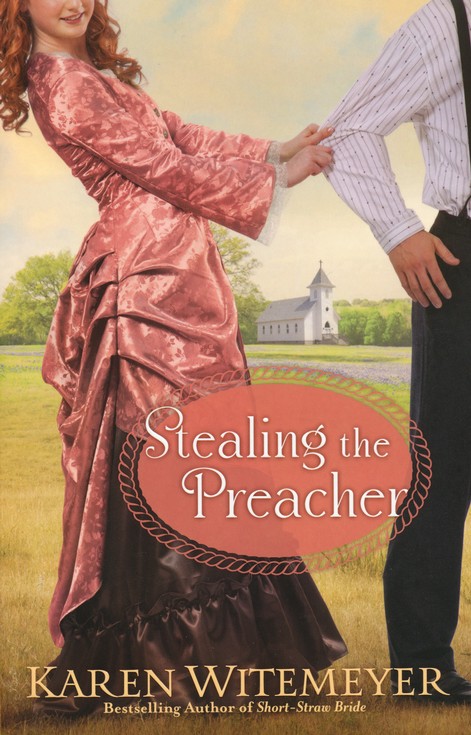 Fun, Adventurous, Unexpected, Heartfelt, Spunky
What creepy crawly or critter do you most fear?
Anything with wings and a stinger. Wasps especially. Shudder.
If you could bring one character to life from your own books, who would it be and why?
Such a hard choice. I think I'm going to take a non-conventional route and select young Isabella from Head in the Clouds. She was only 5 years old in the story and had already lost both parents and had a greedy uncle trying to take advantage of her inheritance. All through that book I wanted to reach out and cuddle that little, mute girl to my chest. Giving her a happy ending was as important to me as bringing the hero and heroine together.
What's guaranteed to make you laugh?
My kids. Whether on purpose or on accident, their penchant for silliness always gets me going. There is nothing better than laughing together as a family.
Please share a favourite Bible verse
One verse that I keep on my desk at all times is Psalm 115:1 –" Not to us, O Lord, not to us, but to your name give glory." This verse serves as a reminder to me of why I write. It's not about me. It's about ministering to God's people through story and bringing glory to the Father. It's so tempting to pat myself on the back when good reviews come in or when awards are granted. This verse helps me regain perspective.
Thanks Karen!
Relz Reviewz Extras
Character spotlight on Crockett & Joanna (Stealing the Preacher)
Character spotlight on Travis & Meredith (Short~Straw Bride)
Interview with Karen
Reviews of Short-Straw Bride, A Tailor-Made Bride, Head in the Clouds & To Win Her Heart
Karen's FamilyFiction Plus interview
Visit Karen's website
Buy Stealing the Preacher at Amazon or Koorong