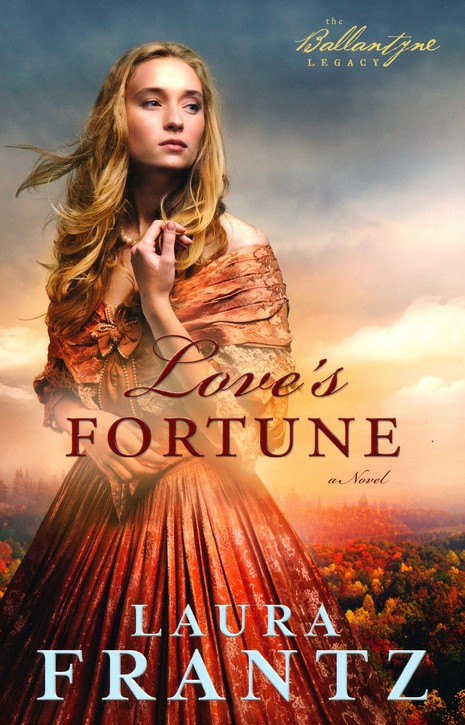 Synopsis:~
Sheltered since birth at her Kentucky home, Rowena Ballantyne has heard only whispered rumors of her grandfather Silas's vast fortune and grand manor in Pennsylvania. When her father receives a rare letter summoning him to New Hope, Rowena makes the journey with him and quickly finds herself in a whole new world–filled with family members she's never met, dances she's never learned, and a new side to the father she thought she knew.
As she struggles to fit in during their extended stay, she finds a friend in James Sackett, the most valued steamship pilot of the Ballantynes' shipping line. Even with his help, Rowena feels she may never be comfortable in high society.
Will she go her own way . . . to her peril?
My take:~
Laura Frantz has been on my must-read list since her debut novel, The Frontiersman's Daughter, for her attention to detail, the obvious respect she has for history ~ it's places, people, and circumstances, and her finely honed characters, created with complexity and heart. Love's Fortune continues those beautiful Frantz traditions. Laura has an innate sense of what her readers desire and it shows in Wren and James' journey. There is tender romance, heartache, yearning, conflict, and healing, all set against the backdrop of patriarch Silas Ballantyne's legacy, whose story is told in Love's Reckoning. The Ballantyne family's road hasn't been easy, with estrangement and betrayal, and this final installment concludes the series beautifully. Laura's prose is elegant and thoughtful, immersing the reader in the turmoil Wren faces when confronted with an opulent lifestyle with which she is unfamiliar. James is intriguing for his aloof manner and the expectations he has of his own future, rendered awry by the lovely Wren. I adored everything about their story but have to admit, I was disappointed with the hasty manner in which another romance unfolded, which left me feeling a little bereft. That said, Love's Fortune remains an enchanting story and I'm eager to see where Laura takes us next.
With thanks to Revell for my review copy
Relz Reviewz Extras
Laura…discover more
Character spotlight on Ellie & Jack
Character spotlight on Eden & Silas
Character spotlight on Cassius & Roxanna
Reviews of Love's Awakening, Love's Reckoning, The Colonel's Lady, Courting Morrow Little and The Frontiersman's Daughter
Character spotlight on Lael Click
Character spotlight on Morrow Little
Visit Laura's website and blog
Buy at Amazon: Love's Fortune: A Novel (The Ballantyne Legacy) or Koorong