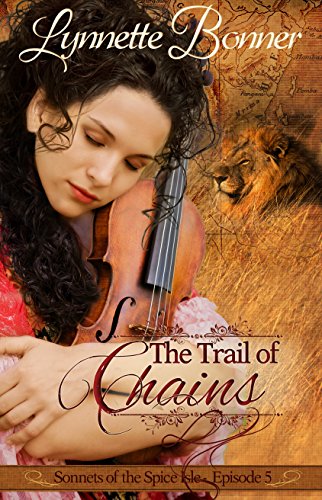 Synopsis:~
Chained to an Acacia Tree, While Chief Banda's Village Burns
Captured and bound for Bagamoyo only moments after the captain was shot, RyAnne is tempted to despair. The journey along the trail of chains would be difficult enough, but severe heat, fire, and a rogue lion threaten at every curve in the path. Only her need to keep watch over little Moyo keeps her from giving up all together. That and her determination to carry on Captain Dawson's mission to find out who the slave trader, Khalifa, is working for.
Trent Dawson wakes to find June and Kako working to save his life. The village is gone. And only one thing weighs on his mind. He must find and rescue RyAnne before the slave caravan reaches the port of Bagamoyo. There is no time for rest, yet his gunshot body demands it. If only his frail flesh wasn't failing him just when he needed it to be strong!
A thrilling historical romance from the time of missionary explorer David Livingstone.
Tracy's Take:~
"The Trail of Chains" is the gripping and heart-wrenching fifth episode of Lynette Bonner's sensational "The Sonnets of Spice Isle" serialised novels. An episode in which all hope seems lost and RyAnne's circumstances are bleak indeed.
In this enthralling instalment Bonner draws the reader into RyAnne's despair as she is captured by a slave trader, and forced to watch the village of her ancestry burn. Forced to walk to the coast and headed for a ship bound for the slave markets RyAnne is haunted by her final sighting of Captain Trent Dawson having been shot. RyAnne's journey leads her through experiences that had my heart racing: running to escape a wild grass fire, severe heat, starvation and dehydration, and a rogue lion intent on hunting them down. At every turn this book had me swiping to the next page as quickly as possible. And interspersed with RyAnne's terrifying experiences was the question; would Captain Dawson recover from his gunshot wound enough to save RyAnne in time?
As I read this part of "The Sonnets of Spice Isle" adventure I was reminded that even in our darkest storms, the days when the light seems to go dim and we can't see a way forward, there is always a choice in how we respond. RyAnne's characteristic compassion, strength and courage come shining through during this episode in a way that felt entirely realistic. She struggles with her faith, and what God is doing, but continues to show compassion and care for those around her.
This is part 5 of a 6 part episodic serialized novel
Tracy received a digital copy of this book from the author. All opinions are her own.
Guest reviewer: Tracy of Beyond My Picket Fence
Relz Reviewz Extras
Review of On the Wings of a Whisper, Lay Down Your Heart, Made Perfect in Weakness & A Walk Through the Waters
Visit Lynnette's website
Subscribe to Lynnette's newsletter and enjoy a free romance, My Blue Havyn
Buy at Amazon:
Episode 1 – On the Wings of a Whisper (free)
Episode 2 – Lay Down Your Heart
Episode 3 – Made Perfect in Weakness
Episode 4 – A Walk Through the Waters
Episode 5 – The Trail of Chains