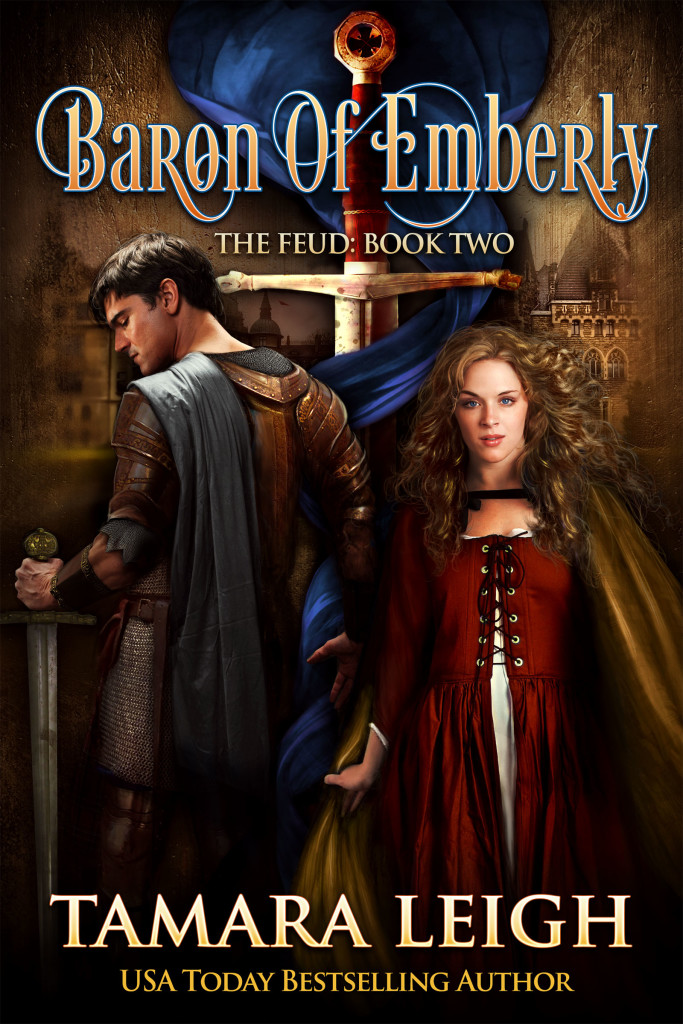 Synopsis:~
A WARRIOR DANGEROUSLY IN CONTROL
England, 1334 ~ In the second book of The Feud series, Baron Magnus Verdun is a warrior whose handsome face gives little indication of the darkness he struggles to contain. While pursuing the murderous brigands who plague his lands, he becomes the unwitting savior of the woman the king has decreed he wed—the reckless Lady Thomasin, whose very presence threatens his carefully ordered life. And more so when she proves outspoken beyond what is required of a dutiful wife. Can he tame this woman whose willful ways ought to offend, but instead captivate? More, dare he allow her near and risk exposing the secret that could push her away?
A LADY PERILOUSLY IMPROPER
Despite efforts to make a proper lady of her, the illegitimate Thomasin de Arell knows she is no match for the Baron of Emberly. Though she expects her new husband will think her beneath him, she is unprepared when he insists on separate chambers. When he also demands she control her behavior, the spurned Thomasin rebels—and unknowingly becomes the pawn of forces determined to further the feud. But upon finding herself in Magnus's arms, she discovers he is not as indifferent as he would have her believe. And when she glimpses his torment, she is determined to shine light on his darkness. Will he let her in? Or will their enemies use the distrust between husband and wife for their own ends?
In this sequel to the bestselling medieval romance, Baron Of Godsmere, join Baron Verdun and his lady as they discover that true love seeks first the soul, and is as easily seen in the dark as in the light.
My endorsement:~
Tamara Leigh is a truly gifted writer whose talent continues to shine brighter with each story she writes. Baron of Emberly is captivating in every way, from stellar characters and evocative prose, to fascinating historical detail and intriguing plot twists, this is a story to savour more than once. Magnus and Thomasin are emotionally complex and layered making their dialogue intelligent, witty, and engaging. I cannot recommend Baron of Emberly and Tamara Leigh's entire back list highly enough.
**This is an endorsement not a review, due to my personal connection with the author and her manuscript. My words remain true, regardless!
Relz Reviewz Extras
Reviews of Baron of Godsmere, Lady of Fire, The Kindling, The Redeeming, The Yielding, The Unveiling and Dreamspell
Review of Restless in Carolina and Character spotlight on Bridget & J.C.
Review of Leaving Carolina and Character spotlight on Piper & Axel
Review of Nowhere, Carolina and Character spotlight on Maggie & Reece
Interview with Tamara
Visit Tamara's website (she has great recipes, too!)
Buy at Amazon: Baron of Emberly