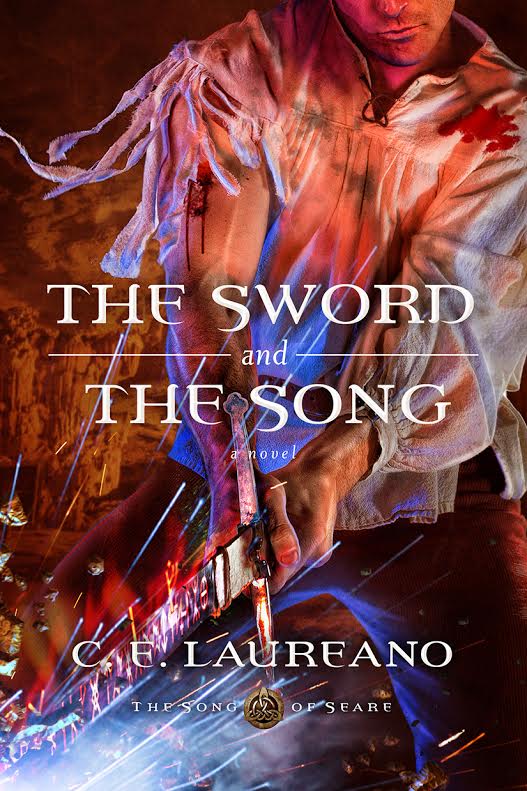 Meet two brothers and a healer in
C. E. Laureano's
fantasy novel
The Sword and the Song
Tyndale House
********
The Story

The shadow of war. A clash of brothers. A terrible sacrifice. In the face of powerful darkness, who will prevail?

The island of Seare is at war. The Red Druid is gathering strength and power to stand against Conor, Eoghan, and the brotherhood. But there is strife within the brotherhood as well. Eoghan still refuses to claim his rightful rule, and the resulting conflict creates an uncomfortable distance between him and Conor. When Conor leaves to find the key to defeating the Red Druid, Eoghan and Aine worry he will succumb to the danger. They set out on their own mission to defeat the Red Druid through Aine's magical gifts.

But nothing—and no one—is as it seems.
Introducing Conor, Aine, & Eoghan
The Song of Seare series is a little different than other series I've written, simply because the scope of the story requires an ensemble cast—it's difficult to pick out only one. So, being the rebel that I am (ha!) I figured I would cheat a little and give you a sneak peek of the three main players in The Sword and the Song.
Conor Mac Nir
Brief physical description
Early twenties; blond-haired and blue-eyed; wiry, muscular build more suited to a long-distance runner than a sword-wielding warrior.
Resembles…
I imagine Conor looking something like Alex Pettyfer, circa I Am Number Four, just with slightly longer hair. Alex is a great template for Conor because he's handsome, but not perfect.
Strengths and weaknesses

Conor is determined and fearless, but he's also somewhat emotional and possesses a strong sense of justice. As he endures increasingly more difficult situations, his idealism is stripped away…leading him to wonder if he's becoming the kind of person he always feared.
Quirk (if any)

Conor's ability with the sword is matched only by his virtuosity with the harp…he's torn between the roles of warrior and bard, protector and storyteller. While it's not a quirk, per se, neither is it a common ability for a warrior archtype!
Your inspiration for the character

I was always fascinated with the character Faolán from Juliet Marillier's The Bridei Chronicles—an Irish bard turned spy and assassin for a Pictish king. It was an interesting dichotomy that I wanted to explore further.(In fact, I loved those books so much, I purposely chose the name Faolán¸meaning "wolf" in Irish-Gaelic, as the name of one of my fictional kingdoms.)
Aine Nic Tamhais (pron. Anya Nic Tavish)
Brief physical description
Twenty years old; small and slight; with honey brown hair and gray eyes.
Resembles…
Early on, I fell in love with Autumn Reeser for the role of Aine.
Strengths and weaknesses

Aine is the glue that holds the characters together: not only is she Conor's motivation for many of his actions (what can I say? The guy has loved her since he was fifteen years old…) but she's far stronger than she seems. You can count on her to make hard decisions and speak truth into a situation…not to mention the fact she's a gifted healer. But she suffers from self-doubt and the tendency to try to "do" when she should really just wait for God's guidance.
Quirk (if any)

Aine has a special insight into the supernatural: she has periodic visions and has been visited by Companions on more than one occasion.
Your inspiration for the character

Coming off a long stretch of damsels-in-distress, fantasy fiction became enamored with the iconoclastic warrior-maiden who could fight as well as the men. I had started to get tired of both extremes, so I wanted to write a heroine who was mentally strong and resilient while still fitting into the norms for noblewomen of the time. I love the fact that Aine often thinks her way out of trouble, when the men around her are inclined to fight.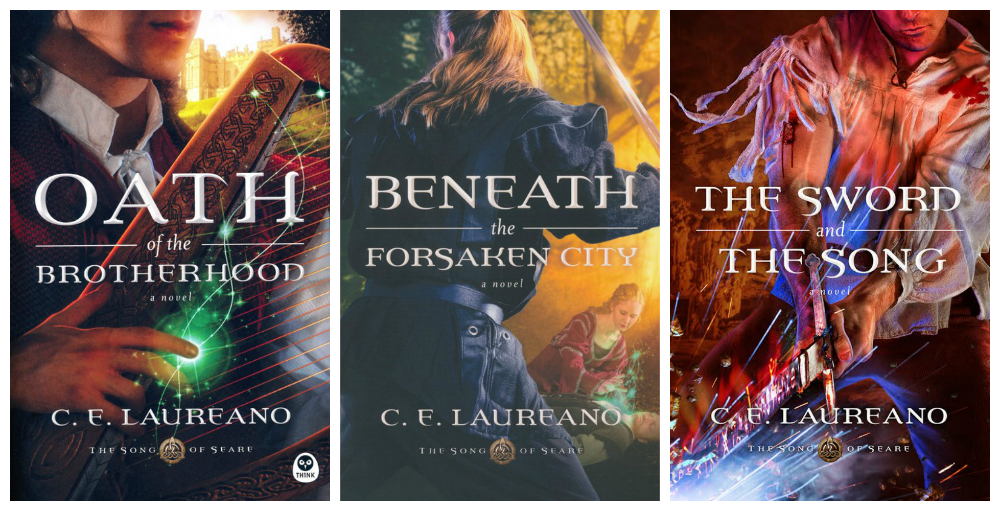 Thanks to Tyndale House, I'm giving away the trilogy! Enter via the Rafflecopter form below
Eoghan (pron. Owen)
Brief physical description 
Early twenties, shorter than Conor but broader and more muscular; dark hair and eyes.
Resembles…
Eoghan was the most difficult character to cast—I must have gone through half a dozen possibilities. Right now, I'm thinking Tyler Hoechlin. (I had a really hard time finding a pic of him where he was both suitably brooding and fully clothed. Apparently, he turns serious and his shirt flies off.)
Strengths and weaknesses
Eoghan is the epitome of the strong, silent type: extremely principled and measured, almost to the point of being rigid. Still, he's willing to make hard decisions and sacrifice for those who are important to him. His brooding nature can frustrate those around him at times, especially Conor.
Your inspiration for the character

Every fantasy hero needs a mentor—bonus points when the mentor is also brother, peer, and rival. I didn't intend Eoghan to become such a crucial character, but he was insistent that he had a big part to play…and to my surprise became the top fan favorite. It was fun to see him earn his own hashtag on Twitter one night.
Background to the story 
I've always been partial to Celtic fantasy, but most books are written from a pagan perspective—showing indigenous societies trying to hold onto the Old Ways in the face of Christianity. I've recast much of that myth from a Christian perspective by giving people of the Balian faith abilities that are the only barrier between the evil on the isle that has existed since the beginning of time. Once you start looking at the Fair Folk (faeries) as demonic influences doing the bidding of a darker power rather than neutral, if mischievous, beings, Celtic mythology takes on a much different and more ominous cast.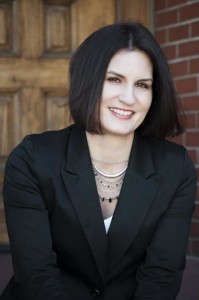 C.E. Laureano's love of fantasy began with a trip through a magical wardrobe, and she has never looked back. She's happiest when her day involves martial arts, swords, and a well-choreographed fight scene, though the existence of her romance-writing alter ego, Carla, is proof of a softer side as well. She is the author of the Song of Seare Trilogy, as well as the RITA® award-winning romance Five Days in Skye and its sequel, London Tides.
Laureano lives in Denver, Colorado with her husband, two sons, and a menagerie of small pets. She loves to hear from readers at connect@celaureano.com.
Relz Reviewz Extras
C. E. Laureano's Pop Quiz
Discover more about Carla
Review of Five Days in Skye and London Tides
Character spotlight on James & Andrea
Visit Carla's website and blog
Buy at Amazon: The Sword and the Song or Koorong