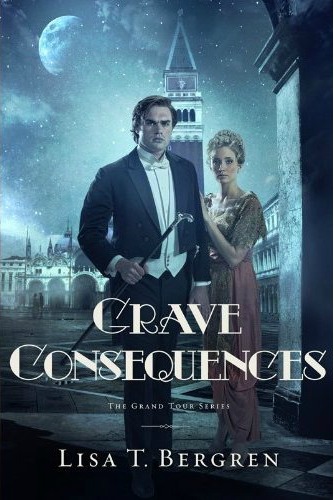 Having escaped an attack on their lives at the end of Glamorous Illusions, the Kensington family determines to continue their Grand Tour and discover the beauty and elegance of the French countryside, Switzerland, Austria, and finally, romantic Italy. As they travel, secrets are shared, love is pursued and lost, and danger continues to nip at their heels. Cora struggles again as her feelings for her tour guide, Will McCabe, grow while the rich Frenchman, Pierre Richelieu, pursues her with determined passion that draws her in.
New friends are made and intriguing sights and sounds experienced at Cora and her siblings attend a bull fight, tackle mountain climbing, and continue to discover what motivates each other's choices. Cora's faith is tested when she experiences betrayal from unexpected places and learns that it is easier than she thought to forget her humble beginnings and embrace the life that wealth can offer her.
Lisa T Bergren provides both an adventure and an education in Grave Consequences, immersing the reader in the history, architecture, and beauty of Europe in the early 1900s through the eyes of Cora and from time to time, bear and tour guide, Will McCabe. Historical detail is a hallmark of this series and readers will either love it, as I do, or find it a little too much. Having travelled to many of the places Cora visited, it was delightful to return if only in literary form, and Lisa weaves many interesting titbits seamlessly into the tale. Balancing the history with plenty of danger and romance, numerous tender moments between Cora and Will, and then Cora and Pierre, keeps readers guessing about which eligible man will win Cora's heart. The characterisation is excellent, including minor players and villains alike. I experienced some frustration with Cora's choices and how she is easily swayed from time to time but I suppose being pursued by two handsome and respectable men, hounded by danger, and adjusting to the societal mores of the upper class, she can be excused from some naivety and foolishness!  While a little lengthy, Grave Consequences is another fine instalment in this epic trilogy that will come to a close with Glittering Promises. I can't wait to journey some more with Cora, Will, the Kensingtons, and the Morgans as this supremely talented writer brings their physical and spiritual journeys to a close.
With thanks to Litfuse for my review copy
Relz Reviewz Extras