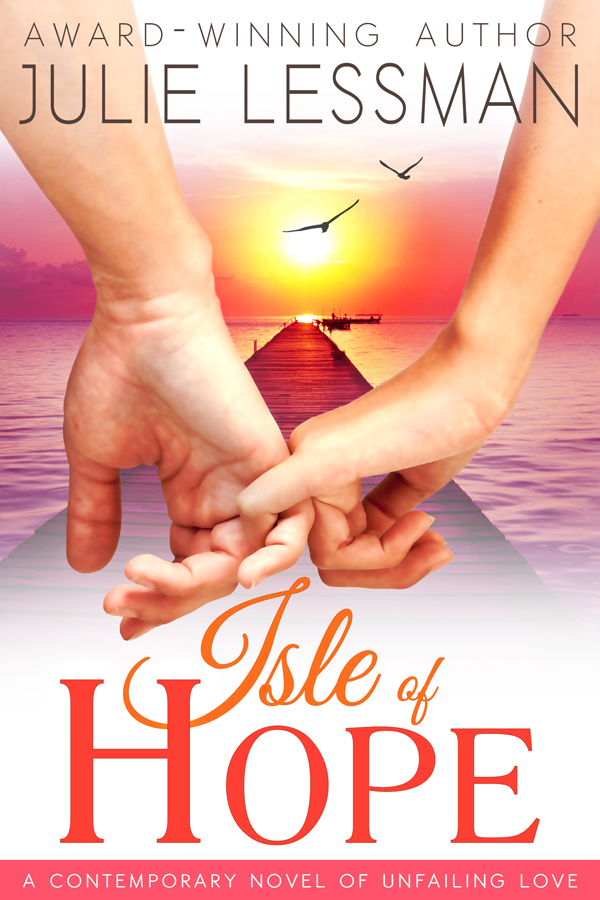 Synopsis:~
She stole his heart.
He stole her peace.
Can hope steal their pain?
At the age of eighteen, Lacey Carmichael was a wild girl bent on fun, promised to Jack O'Bryen, a straight-and-narrow pastor's kid bent on the seminary. When her father kicks her out of the house, she runs away from Isle of Hope, turning her back on everything she loves. Now, eight years later, she's back as a woman of faith, hoping to make amends to the father she defied, the boyfriend she deserted, and the best friend she denied. Only the bridges she's burned are still smoldering, kindled by an adulterous affair by Jack's pastor father that damaged his son's faith. But can a turning of tables—and hearts—lead the way back to "hope" for them all?
My take:~
Julie Lessman made a splash in Christian historical romance with her debut novel, A Passion Most Pure, and with over ten historical romance novels to her name she seemed firmly entrenched in that genre. Yet her latest novel marks a new beginning as she ventures into contemporary romance making me curious to see how she managed the change in style and voice. Devoted readers will be delighted to discover vintage Lessman in this novel ~ detailed prose, appealing characters with blemishes in their pasts and personalities, and passion aplenty. The dramatic entanglements of the O'Bryen and Carmichael families empower the strong spiritual themes woven throughout the story, which I found compelling, moving, and uplifting. Not one to shy away from complex family relationships, where poor choices have led to years of pain, bitterness, and unforgiveness, Julie offers readers both entertainment and challenge with this tale, one sure to generate laughter, empathy, hope, and tears – it certainly did for me. In typical Julie fashion this is a lengthy novel that could have been trimmed in places, but I'm sure her fans won't complain as they fall in love with Lacey, Jack, Tess, Mawmaw, and even Ben. While the ending is assured for one happy couple, as the story draws to a close Julie ensures readers will be clamouring for more! Rest assured Isle of Hope marks Julie's transition into contemporary romance a grand success.
With thanks to the author for my review copy
Relz Reviewz Extras
Reviews of Dare to Love Again, Love at Any Cost, A Light in the Window, A Love Surrendered, A Hope Revealed,  A Hope Undaunted, A Passion Most Pure, A Passion Redeemed & A Passion Denied
Character spotlights on Sean & Emma, Cluny & Katie, Lizzie & Brady and Marceline, Patrick & Sam
Discover more about Julie
Julie's FamilyFiction Plus
Interview with Julie
Visit Julie's website
Buy at Amazon: Isle of Hope