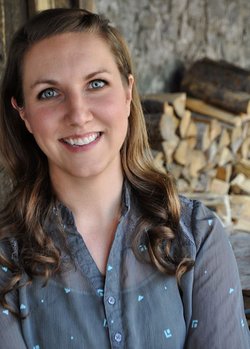 The Reading Habits
of
Joanne Bischof
***
Are you a re-reader?
I'm not as much of a re-reader as I wish I was, mainly because as an author and a homeschooling mom, I often find that I'm tight on time. It seems like what I'm "re-reading" a lot of lately is whatever my kiddos are listening to on audio. It's fun and now even my hubby can quote books like Little House on the Prairie and Anne of Green Gables! We can literally stand there and have an entire dialogue exchange without missing a beat.
But if I get to treat myself to cracking open a book just for me, I find that I go for anything that really moves me. One book I've read several times is Heather Day Gilbert's God's Daughter. It's one of my absolute favorite CBA novels.  I've read it twice and have been tempted for a long while to pick it up and read it once more.
When is your optimal time to read – do you prefer to read in one long block, or do you also read for five minutes here or there when you can?
Probably in the evenings as that's mainly the only chance I get. Though I've been trying to change up our homeschool schedule to work in 30 minutes of quiet reading time and that's been fun. My kids pull pillows and blankets close, grab a book and we all read quietly. I confess, I did this as much for my enjoyment as anything else. It makes for a great way for mommy to regroup and rest, and gets my kids into the pages of a book.
I'd love your thoughts on novellas. Are you thumbs up or down? Or does it depend?!
I love a novella if it packs a punch. A favorite that instantly comes to mind – and I have a hunch you'll agree, Rel – is Bespoke by Amanda Dykes. It's endearing, vibrant and breathtaking. I absolutely loved it! Amanda really showed how much one can pack a powerful punch in a tiny, tiny space.
Rel: I agree with you completely – gorgeous story!
Are you faithful to a genre, an author, or simply quality writing?
Definitely quality writing. I want a book that takes my breath away and whether it's a CBA or ABA pick, or geared for adults or young adults, I love a good read that transports me and is unputdownable.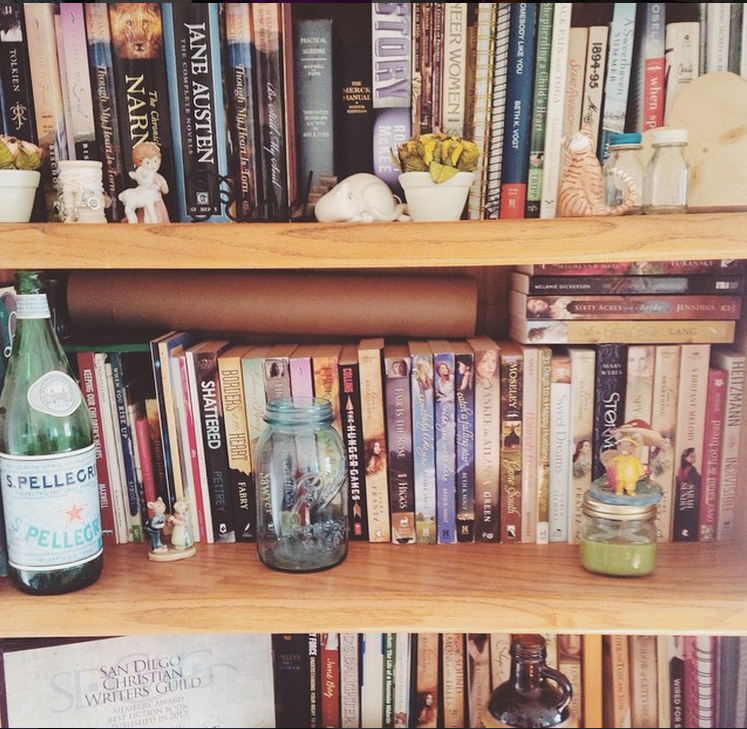 Jo's Bookshelf
Which factors most influence your selection of a book?
Probably recommendations. There are so many book bloggers out there these days who do an amazing job of giving us insights into the books they read that book recommendations are one of my top factors. That and Pinterest. 😉 If I see a good-looking book cover on Pinterest, I'll very likely click through to see what it's about!
Your fiction pet peeve?
Characters that insist they're not looking for love. Maybe it's the hopeless romantic in me, but I always have a hard time believing them.
What book have you read this year that you could not put down, and why?
Let's see…
I will probably have to say Storm Siren by Mary Weber. I absolutely loved it. I turned the pages like crazy then cried big tears at the end. It was just fantastic.
How do you mark your spot – folded page corner, bookmark, dollar bill, whatever is at hand?
I tend to stick some kind of odd item in the pages as a bookmark. I once threw this question out on my author page to see what the weirdest bookmark people have ever used would be and one lady said pantyhose! She's got me beat.
Whose debut novel impressed you more than you anticipated?
Ah! This is a tricky one. Probably because we often have an idea of which debut novels really strike readers' fancies before it comes our way, but I have ONE that comes to mind for this. I had no idea how much I would like it until I read it. It landed in my lap as a bit of a surprise and oh, what a pleasant one it was! It's the debut of our mutual friend, Dorothy Adamek. I can't give too much away because she has a few reveals lying around the corner, but all I can say is keep a look out for this lovely, Aussie author!
Rel: I'm with you, Jo. I can't wait to share Dotti's story with my readers!
When reading, what makes or breaks a story for you?
Lying in teen fiction when there's no repercussions. I just always cringe at what message it sends to young readers. If a character lies to their parents or such, I tend to feel a little twinge in my heart and it does tend to ruin the book a little. I don't really care if it advances the plot or is the key to keeping the story moving. There really can be ways around lying and if an author does the hard work to make honesty happen – they get a lot of respect from me.
What are some of your favourite CF reads from around 10 years ago, or further back?
Ooh, fun one! First to mind is Liz Curtis Higgs' Scottish series. Just loved it. She took some criticism over different elements in it but I found it both brave and beautiful.
Snack/drink of choice while reading?
On a cold day – hot tea with cream and sugar.
What book cover has really caught your eye?
In the CBA I'm smitten by Sarah Sundin's THROUGH WATERS DEEP and Melissa Tagg's LIKE NEVER BEFORE. There's something about a sweet touch of romance and those two covers are both stunning!
Which author makes it easy to turn off your internal editor?
Lori Benton or Laura Frantz. I read their books and just think – why can't my name be Lori Benton or Laura Frantz. 😀
What book do you wish you had written? Why?
Probably My Side of the Mountain. It circles back to those audio books my kids listen to. My son has listened to this one probably thirty times and it's just one good book.
Thanks Jo – loved your responses!
Don't miss Jo's latest novel…it's fabulous!
To Get To You
To get to the girl he loves, Riley Kane must head off on a road trip with the father he never knew. Then pray for a miracle.
Most teens would love to have a pro surfer for a dad. Just not Riley. Abandoned as a kid, he hates the sound of the ocean and the man who gave himself to it.
When the eighteen-year-old learns that his best friend is stranded at a New Mexico hospital as her father fights for his life, Riley hits the highway to head east. But when his Jeep breaks down before he even leaves California, he must rely on the one man he despises to get to the girl who needs him the most. And when it comes to the surfer with the Volkswagen van and dog-eared map, a thousand miles may–or may not–be enough to heal the past.
A story of new beginnings and second chances.
Relz Reviewz Extras
Reviews of To Get to You and Be Still My Soul
Character spotlight on Tucker and Sarah (This Quiet Sky)
Jo's Author Alert
Visit Joanne's website and blog
Buy from Amazon: To Get to You